La Liga: Barcelona president Sando Rosell steps down
Barcelona president Sandro Rosell has stepped down as president of the club amid controversy over Neymar's transfer.
Last Updated: 23/01/14 11:00pm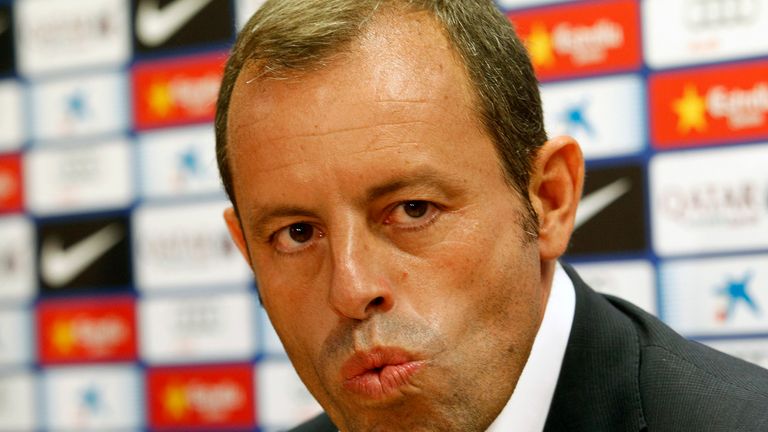 The decision was announced following an emergency board meeting with the club's vice presidents.
Josep Maria Bartomeu, the current acting vice-president of sport, will take over until 2016.
"The success the club has had has also come along with difficult moments for myself and my family," Rosell said.
"There have been threats and accusations which make you consider your position including the claim of misappropriation of funds and the court case. I've always stated that we acted correctly with the Neymar transfer.
"The board of directors is a team. And this team leads a project that has brought the club great success. I don't want unfair attacks to negatively affect their management or the image of the club. This is why I think my time here has come to an end."
The news comes a day after a judge agreed to hear a lawsuit brought by Jordi Cases, a Barcelona club member, over the cost of Neymar's signing.
The Brazil international moved to the Nou Camp from Santos last summer in a €57m deal.
Cases alleges Rosell misappropriated funds by hiding the real cost of the transfer behind false contracts.
Rosell was elected president in 2010 with more than 60% of the vote, replacing Joan Laporta.
Other big name arrivals at the club during Rosell's reign include Cesc Fabregas, who signed from Arsenal for £30m in August 2011.
Alexis Sanchez cost the same amount when he joined from Udinese in the same transfer window, while Javier Mascherano was signed from Liverpool for £18.5m in 2010.
Alex Song also moved to the Nou Camp from Arsenal in August 2012 for £15m while Jordi Alba arrived in a £14m deal from Valencia two months before Song.
Bartomeu added: "My first message as the new president of Barca is to announce the continuity of our project until 2016.
"We continue with the utmost desire and commitment to maintain the sporting, economic and social excellence of our club."
Barcelona are currently level on points with Atletico Madrid at the top of La Liga with Real Madrid one point behind. They face Manchester City in the Champions League round of 16 next month.