Transfer news: Barcelona star Cesc Fabregas was "flattered" by United interest
Barcelona midfielder Cesc Fabregas admits he was "flattered" by Manchester United's interest in him last summer.
Last Updated: 14/02/14 3:49pm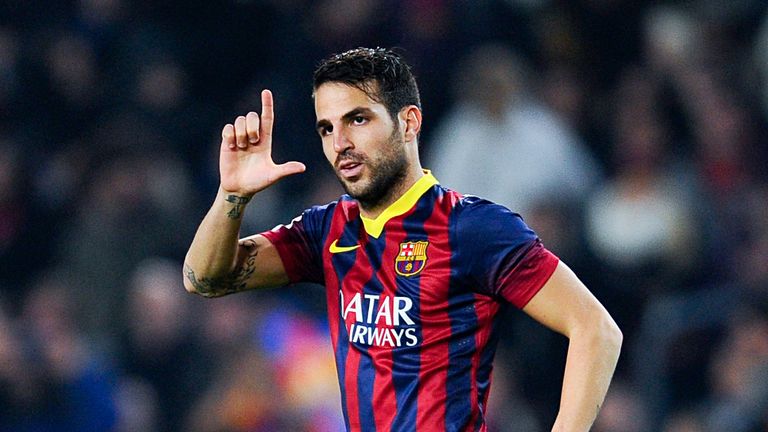 David Moyes failed with two bids for the former Arsenal captain, who stayed at the Nou Camp and found a new lease of life under Barca boss Gerardo Martino.
"It's always flattering when a club like Manchester United talks very well about you and you can see they want you," the Spaniard told Football Focus.
"But I'm going through an amazing moment now.
"I'm playing every week and I feel very important to the team. I'm very happy right now.
"This season I have felt more like myself, with more freedom and more secure with the way I like to play. It's not easy when you know you have to convince many fans how good you are and how good you can be for the team.
"The manager has trusted me and given me what I needed. I'm probably going through my best spell here."
Moyes was looking to sign a central midfielder again in January, but he instead landed playmaker Juan Mata for a club record £37.1m.
Fabregas did not expect Chelsea to let Mata go to a team who are historically regarded as title rivals.
"I was surprised to see Juan move there because I think he has been Chelsea's best player over the last two years," added Fabregas.
"He's produced some amazing performances as they won the Champions League, Europa League and FA Cup and he scored in the final of the European Championship with Spain."
After eight years at Arsenal, Fabregas moved back to Barcelona - where he began his career - in 2011.
The Spain international still watches the Barclays Premier League on a regular basis, though, and he has been impressed by the English players on display.
England are regarded as big outsiders for the World Cup, but Fabregas sees plenty of reasons for optimism.
"I have seen youngsters like Jack Wilshere, Tom Cleverley and Danny Welbeck play and they have got talent," he said.
"That's the thing England have been missing over the years - talent.
"They have got a great group of boys with amazing talent and they have to take advantage of that."