Transfer news: Xavi would like to stay at Barcelona 'forever'
Barcelona midfielder Xavi says that he would like to stay with the Spanish side 'forever'.
Last Updated: 08/03/14 12:07pm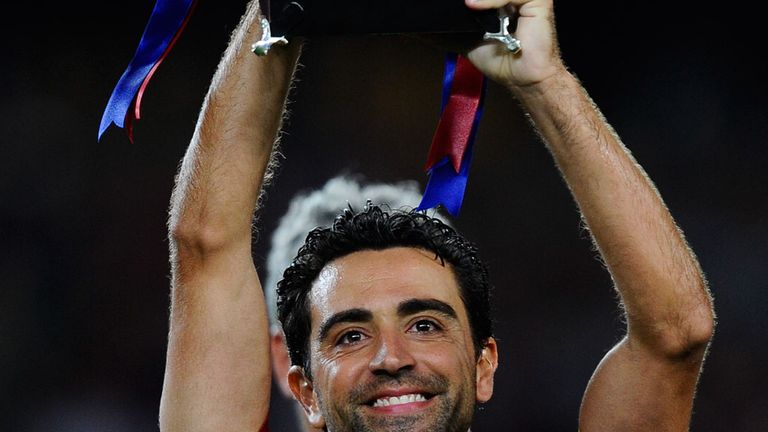 The 34-year-old World Cup winner will lead Spain's defence of the trophy in Brazil this summer.
Club team-mate Carlos Puyol recently announced he will quit Camp Nou at the end of the season but speaking to the Daily Mail, Xavi explained that he had no such plans just yet.
He said: "I'd like to remain in football forever. It would always have to be with Barcelona.
"My heart and feelings are with the club. Right now, I love to play football siempre, siempre (always, always).
"When you're a kid playing, you enjoy having the ball, don't you? All I ever want to do is have the ball at my feet, bossing the game.
"I've been brought up with that style, it's my football education. I can't see any other way to play."
The Catalan giants are defending a 2-0 lead when they face Manchester City in the Champions League next week, and despite reports of their demise, Xavi says they are capable of going all the way in the tournament this season.
He added: "We have an excellent generation of players.
"Since Cruyff changed the history and philosophy of Barcelona, over the last five years, that philosophy has gone 'boom'!
"It's really exploded and we have made history.
"But Barcelona can carry on winning trophies. We won't suddenly be down here (points to floor). This is a spectacular crop of players. Look at the ages of the players: Fabregas, Messi, Iniesta, Alves, now Neymar, Jordi Alba and Pique - they are all around 26, 27, 28, 29 years old. That's a great generation of footballers.".