UEFA Champions League: Fernandinho believes Manchester City had Barcelona worried
Fernandinho claims Manchester City had Barcelona "rattled" in the first leg of their Champions League last-16 clash.
Last Updated: 08/03/14 12:41pm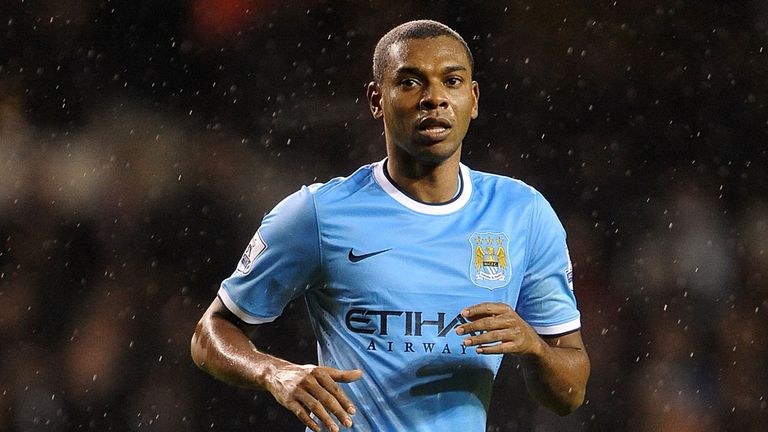 Barcelona left the Etihad Stadium with the two-goal advantage after strikes from Lionel Messi and Dani Alves but Fernandinho claims it was not as clear cut as the result suggests.
City were far from outclassed in Manchester as they thwarted the usually free-flowing Barcelona, who could not get a shot away in the opening half-hour.
Brazil international Fernandinho believes that is testament to City's work-rate, claiming the hosts had Barcelona scared.
"We had them worried," he claimed in an interview with the Guardian.
"We managed to put them under pressure and there were situations in which the Barcelona guys didn't feel confident to try and use their passing game.
"They were rattling the ball to where their noses were pointing. We rattled them."
Harsh
He added: "We were good going forward and a bit more luck could have changed the game.
"Even with that harsh decision to send Demichelis off we could have still left the pitch in a better situation."
Fernandinho acknowledged the deficit facing Manuel Pellegrini's side as they travel to the continent, but is determined to see his side return with pride intact.
"Barcelona built a respectable advantage and they are a tough team to beat at home," he added. "But we need to try.
"We might not get out of there with qualification for the next round, but it will be quite important to leave Spain at least with our heads held high.
"No matter how great a squad is, a competition like the Champions League is not easily won.
"You just have to look at Chelsea for example. So we do have to envisage pushing Barcelona to the limit because this will also give the club the belief that we are getting mileage in this tournament."
Thankful
Fernandinho, who made the switch from Shakhtar Donetsk in 2013, revealed his gratitude to his former club but admits it was time for him to take a on a new challenge.
"Shakhtar specifically are proud when traditional clubs from Europe come knocking and I knew it would be quite hard to convince them to let me join City," he added.
"Listen, I am absolutely thankful for the opportunity they gave me but I also think I worked my socks off for that club and it was time to look after my career."
The 28-year-old admits gelling with his midfield partner Yaya Toure - formerly of Barcelona - has taken some time but claims they have developed a natural relationship in recent months and believes City are laying the foundations for lasting success.
"Yaya and I from the start had to talk a lot to work out our roles," continued Fernandinho.
"These days we just play it by ear. We know where each other is going to be.
"It will be a special match for Yaya but he never made a big deal out it. He moved on to a new challenge, just like all of us who joined City. We have something special going on here and the players know it."