Gerardo Martino upbeat on Barcelona's chances of success despite recent setbacks
Gerardo Martino remains upbeat on Barcelona's chances of success this season despite recent setbacks.
Last Updated: 11/03/14 8:15pm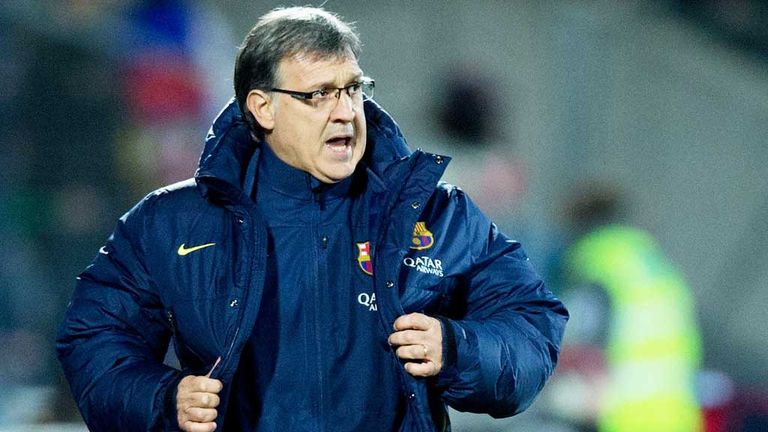 The Spanish champions were beaten 1-0 by relegation battlers Valladolid last weekend to slip to third in the table behind Real Madrid and their city rivals Atletico.
Barca have already reached final of the Copa del Rey and will qualify for the Champions League quarter-finals if they finish off Manchester City at home on Wednesday, having beaten them 2-0 last month.
But that has not stopped speculation over Martino's future at the Nou Camp, where expectations are lofty after three European triumphs in the past eight years.
Martino said: "I always stay strong especially thinking of everything that lies ahead.
"I won't forget about the league, we have a cup final and we can reach the Champions League quarter-finals. If I wasn't upbeat I would change jobs.
"This team is brave and is motivated. We have not been consistent enough, but there's not a problem with motivation or performance.
"Barcelona have good enough players to aspire, every season, to win titles. These players will turn things around.
"They know what's expected, so I don't need extra motivation. We did make lots of mistakes against Valladolid but that isn't normal in this team."
Despite winning comfortably in Manchester, Martino will not take anything for granted against a City side reeling themselves after a shock loss to Wigan in the FA Cup last weekend.
He said: "We played a very good match against Manchester City. I don't see why we can't do the same tomorrow and I am sure we will play well.
"We have to separate the league from the Champions League and we are at an advantage.
"But I think the way we could risk the result is thinking that we won 2-0 over there. The best thing is to think it's still 0-0 to try to win the match.
"We can't think about speculating with the result simply because we're in the lead."