Primera Liga: Victor Valdes may have played his last game for Barcelona
Barcelona goalkeeper Victor Valdes has suffered a knee injury which is likely to end his season and World Cup hopes.
Last Updated: 01/05/14 9:24am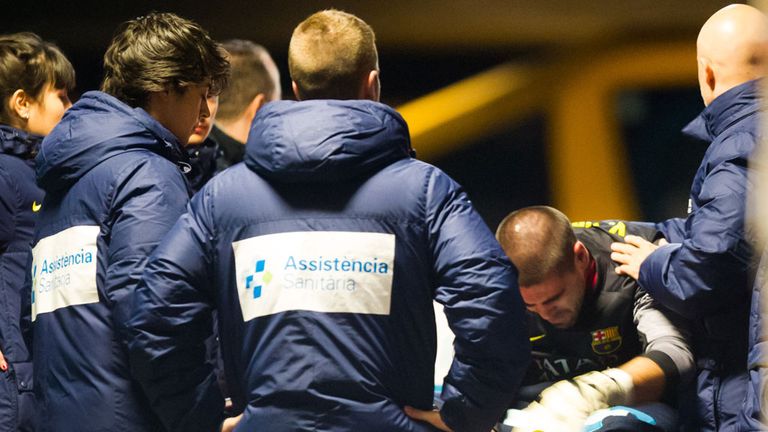 The Spain international was taken to hospital with a knee injury sustained during Barcelona's 3-0 win over Celta Vigo at the Nou Camp.
Valdes' right knee appeared to buckle when he came down after jumping to block a free-kick during the first half.
The free-kick appeared to catch Valdes wrong-footed, and although he was able to make the stop he had to dive forward to gather the rebound, and it was then he suffered the injury.
He immediately called for help and was replaced by Sergio Pinto, who went on to make a fine double save in Barca's win.
The 32-year-old, who has already announced that he will leave Barca in June when his contract expires, was expected to compete with Iker Casillas for the No 1 jersey for Spain at this summer's World Cup.
Barcelona later revealed that Valdes suffered anterior cruciate ligament damage which will require surgery.
"Víctor Valdés suffered an ACL tear on 22 minutes after saving a free kick from Augusto," Barca said on their website.
"The club's medical services confirm that he will need surgery. The keeper fell awkwardly on his right leg, forcing him to ask to be substituted."
The injury leaves an immediate question mark over Valdes' future as it will complicate any move to a new club this summer, while it will come as a blow to Vicente Del Bosque as he finalises his World Cup plans.
Barcelona coach Gerardo Martino said that the club would not look to make an emergency move to replace Valdes, meaning the young and untested Oier Olazabal will serve as Pinto's backup.
"We won't sign a goalkeeper. We will finish the season with this group," Martino said. "I am not one to believe in bad luck, but at this stage of the season I thought everything that was to happen had already occurred. I was wrong. It's a big blow but this team has rolled with punches for some time now and we will pull through this."