Kick It Out claim 'football in dark ages' after banana thrown at Dani Alves
Kick It Out insist the banana thrown at Dani Alves shows football remains 'in the dark ages' in some countries.
By Dev Trehan
Last Updated: 29/04/14 11:21am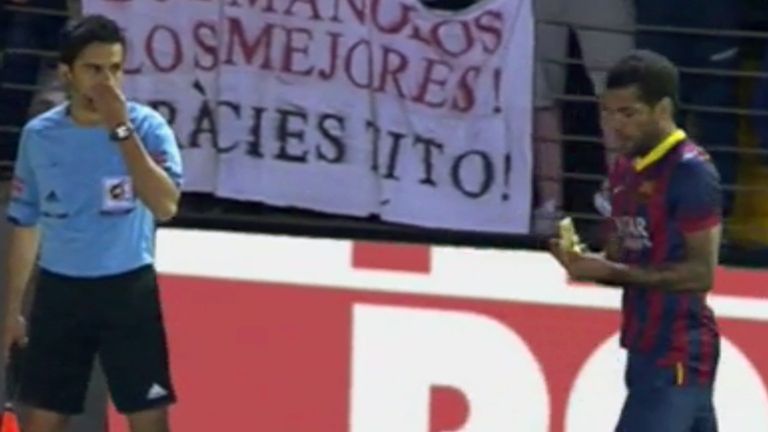 The Brazil international was about take a corner at El Madrigal stadium on Sunday during Barcelona's 3-2 win at Villarreal when a banana was thrown at him from the crowd.
Alves picked up the banana, ate part of it and quickly took the corner.
Villarreal have quickly identified the offending season-ticket holder and banned them for life.
But former Charlton and Crystal Palace midfielder Paul Mortimer, Professional Players Engagement Manager at Kick It Out, warned Spain has wider underlying issues with race.
"It was an incredibly brave way for Alves to respond particularly after the way he was goaded," Mortimer told Sky Sports.
"Kick It Out started with John Barnes back-heeling a banana off the pitch and it's still happening now, which is absolutely crazy. The behaviour of that fan was totally unacceptable and it's about time now that we had zero tolerance.
"We can't keep saying it's one mindless person in a sea of thousands, because I do not believe that is the case. It seems like it is a huge problem in Spain and it seems to be happening more often than not. It almost seems like an acceptable norm and that can't be right.
"Punishments must be severe because this has been happening for so long now in Spanish football. It's endemic in Spanish football and it needs to be dealt with now."
Spain has been plagued by a number of high-profile incidents of racism at sports events in recent years.
These have included taunts directed at black members of the England team during a friendly in Madrid in 2004 and at British F1 driver Lewis Hamilton at the Spanish Grand Prix in 2008.
Alves himself has suffered racism on many occasions in Spain, notably in January 2013 when Barcelona played rivals Real Madrid at the Bernabeu.
The Brazilian suggested after the game that the incident had not come as a surprise to him and must be taken with "a dose of humour."
Mortimer said: "He's talking about his experience and that's based on 12 years of playing in that country playing for Seville and Barcelona and it has not been taken seriously.
"What he is basically saying (in his statement) is 'I am having to deal with this myself because the authorities are not supporting me or protecting me'.
"I feel sorry for him because I think that the people he has turned to for support have not supported him.
"Authorities have a responsibility to protect their players and he has not been protected in the way that he should be. I'm interested to see what the Spanish FA do and how quickly they act."