Villarreal hit with fine after banana thrown at Dani Alves
Villarreal have been fined just under £10,000 after a fan racially taunted Dani Alves by throwing a banana at him.
Last Updated: 07/05/14 4:12pm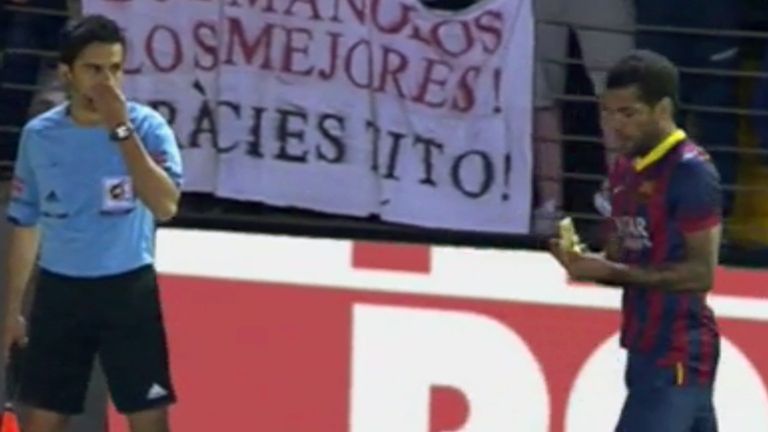 The incident happened in Barcelona's 3-2 win at El Madrigal on April 27, just as Alves was about to take a corner, and he reacted by taking a bite from the banana before discarding it.
A 26-year-old fan, David Campayo Lleo, was later arrested by police and Alves has received support from a number of high profile players on social media.
Spanish football authorities were considering a partial closure of the stadium, but instead opted for a fine after Lleo was given a life ban by the club.
Lord Herman Ouseley, chair of football inclusion campaign Kick It Out, has criticised the punishment handed out to Villareal by Spanish authorities.
He said: "The Spanish FA has been incredibly weak and lily-livered on tackling racism and we're seeing these types of incidents repeating themselves because they've done nothing sufficiently effective to address the problem.
"They need to stop burying their heads in the sand by denying that the issue exists."
Barcelona released a statement, calling for a clampdown on racism throughout the game.
"Barcelona wishes to express its complete support and solidarity with Dani Alves following the insults he was subject to," it read.
"Barcelona urges all clubs to continue fighting against the blight on the game which any kind of aggression against a sportsperson on the basis of their race represents.''
But another La Liga game was marred by racist abuse at the weekend when Levante's Papakouli Diop was subjected to monkey gestures by Atletico Madrid supporters.