Barcelona legend Xavi on Sergio Busquets, Lionel Messi and his Mum
Barcelona legend Xavi is preparing to play his last game for the club in Saturday's Champions League final against Juventus in Berlin
Last Updated: 05/06/15 8:42am
Eight league titles, three Champions Leagues, three Copa del Reys, two UEFA Super Cups, six Spanish Supercups, two FIFA Club World Cups. 24 titles with Barcelona.
There is no doubting Xavi's success at the Nou Camp. On a personal note, he has been voted into the top three of the Ballon d'Or on three occasions. But his Barca career is coming to an end.
The Champions League final will be his last game, bringing the curtain down on a 17-year stint in the Barcelona first-team, laden with success.
It will signal the beginning of a new era for the Blaugrana, without one of the best Spanish midfielders of all time. According to the player himself though, there is a ready-made replacement waiting in the wings.
Speaking ahead of the Champions League final, Xavi explains why Sergio Busquets - his countryman and long-time Barcelona team-mate - is the man to take the mantle.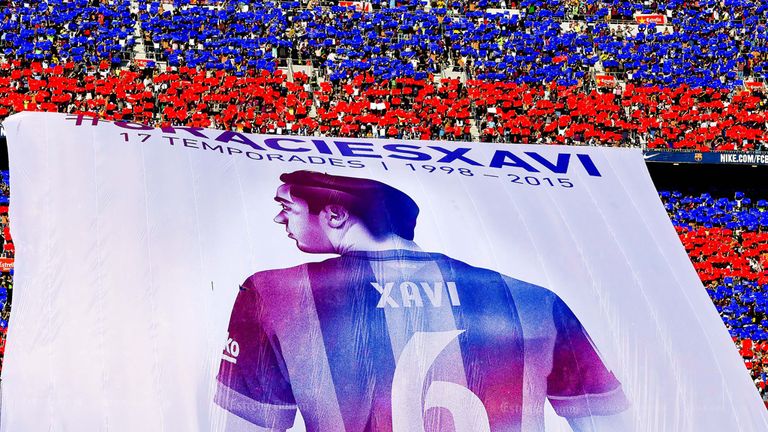 "I've got a soft spot for Busquets in every respect," he said. "He's a close friend and I think he's the player with the best understanding of football, both in attack and in defence, in the world.
"His game intelligence on the pitch is a wonder. And off it, I don't know anyone else whom I have the same affinity with. I think he's my natural replacement in the dressing room and on the pitch.
"He's destined to be the leader for Barcelona for the next decade, without a shadow of a doubt."
Strong words, but who are we to argue with the brilliance of Xavi? He knows Barcelona inside out, his affection for the club shown in his tears following his 505th - and final - La Liga game on May 23.
But it could have been so different. The trophy count is an obvious high in Xavi's footballing career, but there have been inevitable low points, too; low points that almost signalled the end of his association with the club.
If it were not for the influence of his mother, Xavi may have moved elsewhere. She is a staunch Barcelona supporter, and the 35-year-old explains that she did not allow him to move on when times got tough.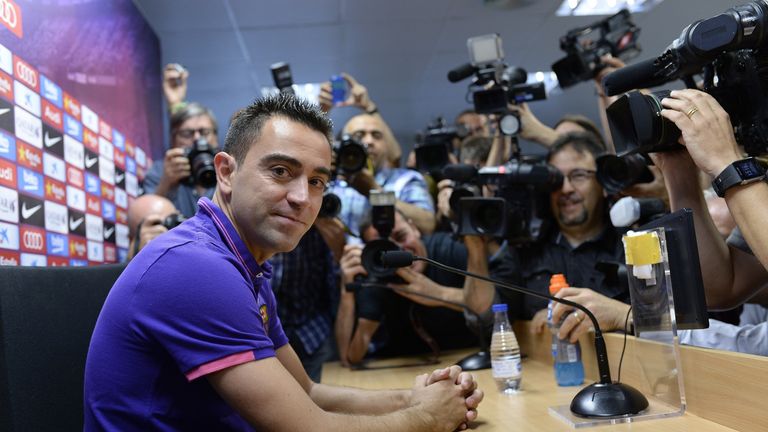 When asked who the biggest Barca fan in the family is, he said: "Perhaps it is my mother. Perhaps! We are all Barca fans. But for my mother, it is everything.
"I have had offers in the past to leave, but she always insisted that my place is here at Barcelona, that I am better off at home, that I should succeed at Barcelona and many times she has worked hard to ensure I stay.
"When I was 18... Even last year, we had a sort of 'war' in my house to stop me leaving. My mother has always been very stubborn about me staying at Barca.
"Especially during difficult times for me and the club, such as when we went four or five years without winning anything, when I didn't believe in myself, I didn't believe in football and I was looking to change everything, it was difficult.
"But between my stubbornness and my mother insisting that I should stay at Barcelona and succeed here, it all came out well in the end."
For Luis Enrique's side, the treble is still on this season. La Liga is won, the Copa del Rey was secured on Saturday, and the Champions League final against Juventus is this weekend. It could be the perfect end to a perfect career for Xavi.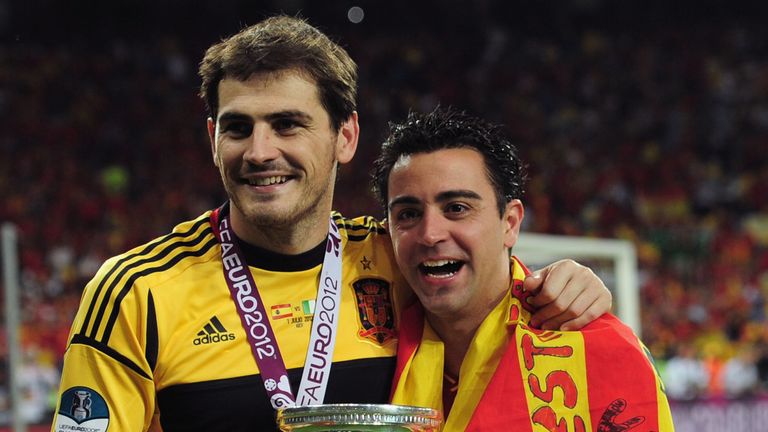 This season has been remarkably successful, with the media and many supporters citing a change in manager, and therefore style, as a contributing factor.
In Xavi's eyes though, it is simpler than that. No managerial overhaul, no in-depth style changes... just three players, three world-beating players: Lionel Messi, Luis Suarez and Neymar.
"My explanation isn't about the change of coach. Luis Enrique wants to play in the same style that Barcelona have been using forever. That's his idea. To dominate games. Nothing has changed. What has changed?
"I think it's about the three players up front. Before, we had players who were dominant in games. They didn't lose the ball. Maybe they weren't outstanding when it came to taking players on.
"Maybe we only had one player like Messi who took players on. Now we have three. We have Neymar and Suarez as well as Messi. When the ball goes forward, it's an attack almost straight away.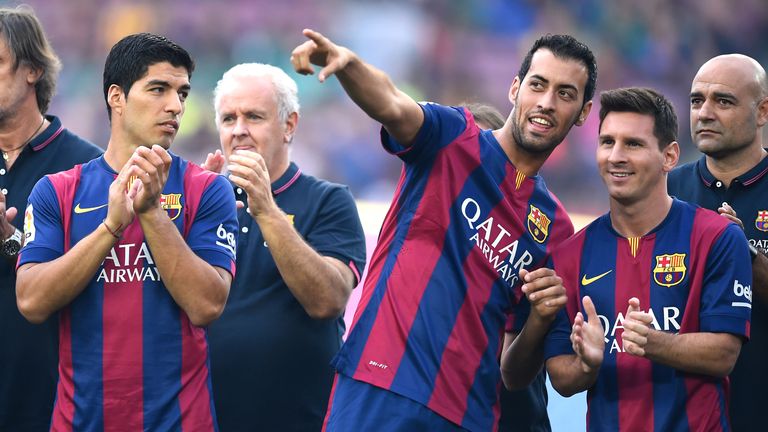 "There isn't as much domination of the game because we're on the attack. When the ball gets to Neymar, Suarez or Messi, we have players that can create openings with their individual brilliance. We used to need four or five changes in direction, maybe 20 or 30 passes.
"Now the ball reaches Neymar, Suarez or Messi after two passes and it's an attack, I think that's the difference. I don't think it's about the coach. The coach wanted us to play in the same way. It's about the three up front."
For over 10 years, Xavi has watched Messi first-hand; sat alongside him in the dressing room, looked on in awe during training sessions, even helped him become a better player.
This season for Barcelona, Messi has scored 58 goals, an extraordinary return for an extraordinary player. Xavi describes him as a "phenomenon".
"What Leo has been doing is amazing," Xavi continues. "He's even the best at defending. When he puts pressure on the full-backs, he wins the ball back. He's the best at everything, no matter what he does.
"Having Messi in the team means you always have to look for him. There's no other explanation. When you see Messi ahead of you and there's another pass open, the ball still has to go to Leo. You know that it will be an attack and he'll cause danger.
"The opponents expect it. For me, he's the best player in history, without any doubt. He's shown over the last eight or 10 years that he's the best player in the world. He's had some ups and downs, such as last year, but that's normal. He is human."
And so is Xavi. When his eyes filled with tears after his final league match, that much became clear. He is a Barcelona legend, and has been central to their success for the best part of 17 years.
Barcelona will go on, but things will surely be different now. Xavi is a name ingrained into the club's recent history. A poignant quote to sum things up is this: following his final La Liga game, he stood and spoke to journalists, about the end of an era... the end of his era.
"I will miss everything about Barca," he said. "I will miss Barcelona more than Barcelona will miss me."
Watch the Champions League final between Barcelona and Juventus live on Sky Sports 1 HD from 6pm on Saturday.