Robben out of Dutch qualifiers
The Netherlands have confirmed Arjen Robben will miss the final Euro 2012 qualifier against Sweden due to a groin injury.
Last Updated: 06/10/11 12:37pm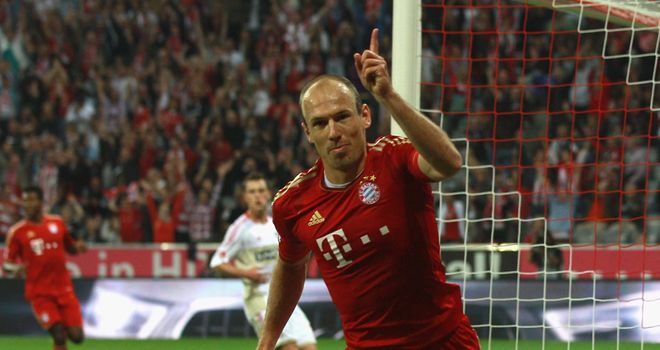 The Netherlands have confirmed winger Arjen Robben will miss the final Euro 2012 qualifier against Sweden due to a groin injury.
Robben had already been ruled out of Friday's Group E game against Moldova and will now sit out next week's trip to Sweden.
Coach Bert van Marwijk had been hoping the Bayern Munich attacker would be fit to face the Swedes, but further tests have dashed that possibility.
Holland have already qualified for next year's tournament in Poland and Ukraine, and boast a 100 per cent record after scoring 34 goals in eight matches.
No bad blood
Meanwhile, Dutch defender Hedwiges Maduro has insisted there was no bad blood between him and international team-mate Luuk de Jong after his tackle ruled the Valencia man out of the forthcoming qualifiers against Moldova and Sweden.
Maduro, 26, sustained an ankle injury in the training-ground collision with FC Twente forward De Jong.
Describing the incident, Maduro told www.telegraaf.nl: "He (De Jong) could not help it, it was pure (bad) luck.
"It was an unfortunate duel with Luuk. He wanted to get the ball, but I was faster and this left my left ankle hooked between his legs. I felt the joint make a double 'clap', so I'm worried that there is damage, but hopefully not that bad."
Vlaar
Van Marwijk has drafted in Ron Vlaar to replace Maduro for the double-header and the Feyenoord defender is aiming to build on the experience.
Vlaar told www.telegraaf.nl: "I had taken my son Shane swimming and when I got back to the dressing room I saw a missed call from team manager Hans Jorritsma and I had an inkling.
"Of course I realise that I have only been called up because of injuries to others. But I think the selection is great, it had not been expected.
"It feels very positive, I can do something with it. I am there and can bring my experience back to Feyenoord."