Treat 'em mean
Mourinho publicly criticised his Madrid players to try and draw a response, Guillem told Revista.
Last Updated: 29/08/12 8:19am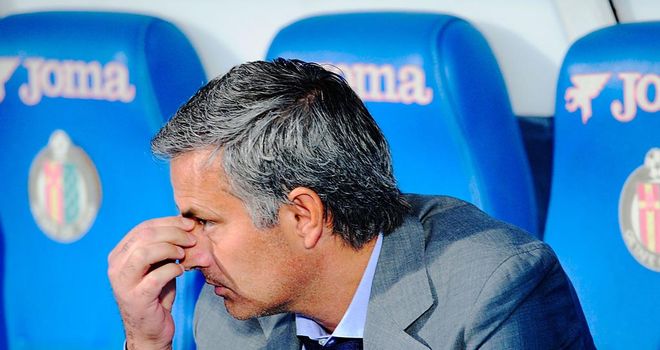 Jose Mourinho has publicly criticised his Real Madrid players to try and draw a response from them, Guillem Balague told Revista.
Real Madrid trail Barcelona by five points following an opening day draw with Valencia and last weekend's disappointing defeat at Getafe.
After that loss Mourinho criticised his players in the press conference after the game, branding their performance 'unacceptable', and made it clear he expects more from them, says Guillem.
"There are a few reasons for this defeat and according to Mourinho they are tactical, technical and to do with ambition and motivation," he said.
"Juan Valera's equaliser for Getafe really got him mad. It's the second game in two that Madrid have conceded from a set-piece.
"They've conceded six goals in three games this season in all competitions, but Mourinho has said they can't work any harder on getting it right. Instead he's blaming individual errors.
"Normally Mourinho is the first into the changing room when the game is finished but this time he left them without saying anything and instead gave them a big telling off in the press conference.
"When he does that and uses his press conferences to send messages to his players it's because he sees the team lacking so much in tension. He hopes everyone will react to a big telling off.
"On Monday, at training, he didn't say anything to the players but on Tuesday they had a big talk and he told them what went wrong."
Pressure
Guillem believes the pressure of securing the La Liga title last season may be taking its toll on the Madrid players.
"I get the impression it was due to last season," he said. "During that season the players were under the highest tension they had ever been through in their lives to actually get Barcelona off the title and win it - plus the pressure added by Mourinho.
"After tensing the team so much, they rested during the summer but now are thinking 'another year of this?
"But Real will lift their level. They have it in them."