Sevilla confirm Liverpool offer for Luis Alberto and Aston Villa's Antonio Luna bid
Sevilla confirm bids from Liverpool and Aston Villa for striker Luis Alberto and defender Antonio Luna respectively.
Last Updated: 18/06/13 1:21pm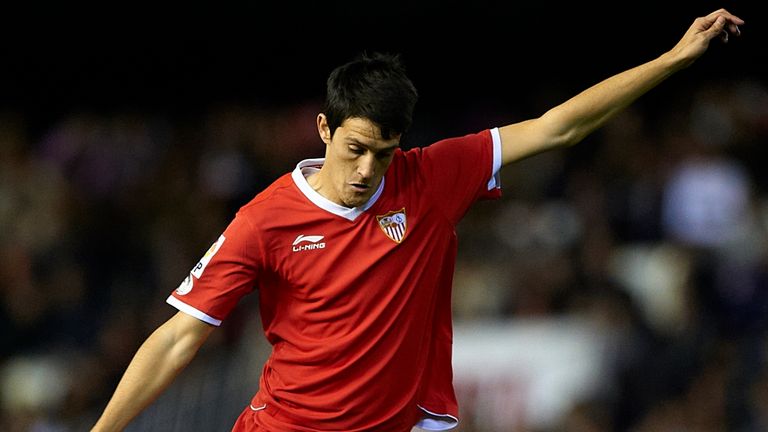 Alberto, 20, spent last season on loan at Barcelona B where he scored 11 times in 38 games while Luna, a 22-year old left-back, spent the second half of the campaign at Mallorca after only making a handful of appearances for Unai Emery's side.
The duo could now be heading for the Premier League this summer after Sevilla's director of football Ramon Verdejo admitted there have been offers for the two players.
"Liverpool's interest in Luis is real, but nothing has been signed. They've made the player a very important offer," he told Sevilla's official TV channel, La Bombonera.
"I recall that much of a fuss was made when we loaned him out. As it stands, we all agree that he now has a better value in the market and has grown as a footballer.
"Is it a good deal to sell him for the figures they speak of? The offer we have on the table is a very good one with respect to where Luis is currently.
"We don't know what will happen in the future. To date, we haven't accepted the offer."
Verdejo confirmed Villa's offer for Luna, telling La Bombonera: "It is true that we are very close to finalising his move to Aston Villa."
He also stated that they are in no rush to sell star striker Alvaro Negredo - whilst revealing that they have turned down bids for Premier League targets Geoffrey Kondogbia and Ivan Rakitic.
"We have had offers for Kondogbia, Rakitic, Medel and did not listen to them," he said.
"If no significant offer comes in, we will not sell Negredo. But do not forget who is the player involved - the figures being reported of, 15, 17 or £18million are insufficient."
Chelsea and Real Madrid have been strongly linked with Kondogbia, but Verdejo says he will be staying.
"He, his father, Doyen and Sevilla think it suits him stay in the club, he will grow and we are sure it will be worth even more next year."