Real and Atletico Madrid make clever transfer window moves, says Guillem Balague
Will the arrival of Bale and exit of Ozil affect Real's midfield balance? Guillem reflects on the big deals...
Last Updated: 04/09/13 9:24am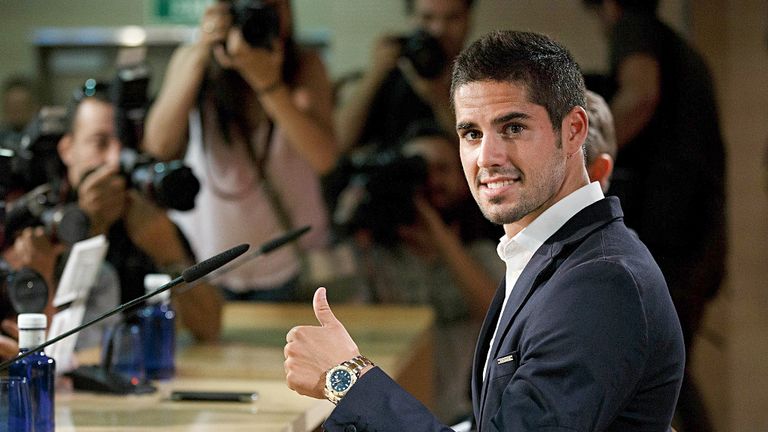 The arrival of Bale, however, is a step towards the pacey counter-attack and I wonder how that's going to match with the intention of manager Carlo Ancelotti, which is to make Isco the centre of the attack of Real Madrid, with Luka Modric as well.
Modric had a really good second half of the season last year and has become one of the leaders of the team - and for the first time in two or three years the absence of Xabi Alonso is not seen as a drama.
But I still feel the team requires more balance in the centre of midfield, especially when you have Bale, Karim Benzema, Cristiano Ronaldo, Isco and Modric, who will all be regulars.
One player who won't feature in the Real Madrid midfield next season after his move to Arsenal, though, is Mesut Ozil.
He wasn't happy with Real; he understood the arrival of Bale was going to affect him and, despite the fact that three days ago he said he was going to stay, his dad, who is his agent, was talking to clubs in the Premier League and Germany all summer and eventually Arsenal were the ones that were going to pay more wages.
Arsenal will pay him 7m euros net, while at Madrid he was earning 5m euros. His contract hadn't been touched since he arrived at Real and he felt, after winning the league, it should have been touched. He basically didn't feel loved.
It's also an important year for him with the World Cup next summer. He felt he was going to play less and that was going to affect his chances of being a regular with Germany.
So, all in all, Arsenal have moved at the right time, cleverly - and he was a regular at one of top teams in the world, a goal scorer and performer of the highest calibre, so I think it was a worthwhile price for him.
Barca miss out
Barcelona proposed to Tata Martino, when he first arrived, that even before he got to know the squad it would be a good idea to get a centre-back. He said 'let me have a look at what I have'.
However, when he had a look he said 'I don't want to make a decision' because the chairman wanted David Luiz and the director of football wanted Daniel Agger; he didn't want to take one side or the other so decided not to go for either.
He thought Carles Puyol was going to come back soon, although his return has been a bit delayed, and he thought 'what I have will be enough'.
But then he realised 'I'd like a striker, a different type of striker', but by then it was too late for Barcelona to move so I just wonder if in December they try to go for that.
Atletico Madrid, meanwhile, have been clever in the market with a couple of acquisitions at the last minute in Toby Alderweireld and Joshua Guilavogui.
Belgian centre-back Alderweireld is a typical Ajax centre back that can play the ball from behind, while central midfielder Guilavogui is a recent France international and he's a typical Diego Simeone player: physical and strong. He's a good signing.
Martin Demichelis came for nothing, didn't play for them and he's gone to Manchester City for 4m euros so that was good business, too.
But Ander Herrera is still at Athletic Bilbao, after his move to Manchester United didn't go through and we'll try to explain that situation on Revista - but it was a bit weird, with people in the Spanish league offices, who don't represent Herrera or United. What were they doing there?
It was a disappointing ending to a transfer that would have given United a lot of quality in midfield. If you had given him 12 months he'd have been one of the top midfielders in the Premier League.
I'll answer your La Liga questions again from next week, so if you want to know more about any players, teams or rumours in Spanish football, fill in the comments box below...