Real Madrid lack remorse over Cristiano Ronaldo's ref push, says Terry Gibson
Last Updated: 12/09/17 3:21pm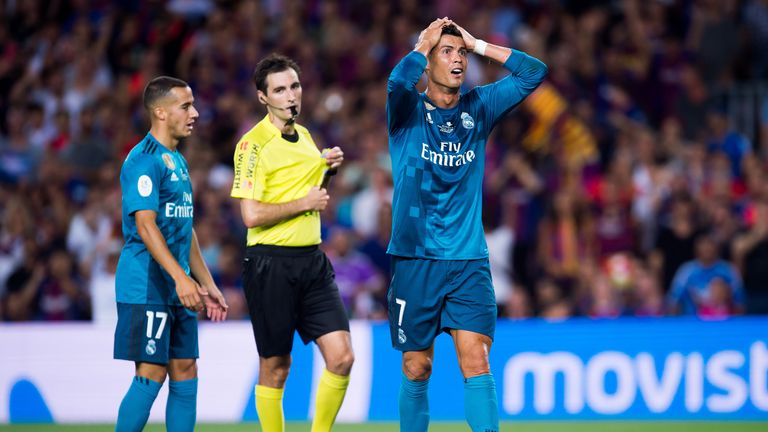 Terry Gibson has accused Real Madrid and Cristiano Ronaldo of a lack of contrition over his red card against Barcelona and consequent five-match ban.
The forward was dismissed near the end of Real's 3-1 Spanish Super Cup win at the Nou Camp on August 13 for diving when he appeared to have been fouled in the penalty area by Samuel Umtiti.
Ronaldo reacted by pushing referee Ricardo De Burgos Bengoetxea in the back and was banned for four games - the minimum punishment for such an offence - as a result.
With a further match added on for the red card itself, the Portugal striker has one more domestic fixture to sit out against Real Sociedad on Sunday.
In his absence, the European champions have dropped four points in their opening three games as they have drawn at home to both Valencia and Levante.
A month on from Ronaldo's ordering off, Real are still upset at his punishment but Gibson, speaking on the La Liga Weekly podcast, insisted they should be demonstrating remorse instead.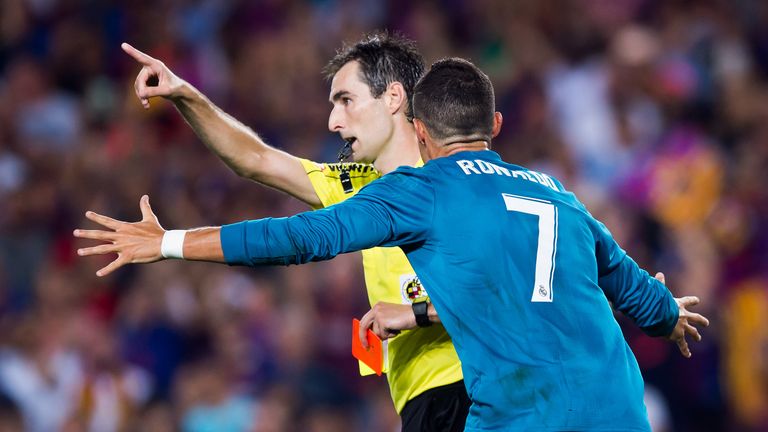 He said: "It's irritating me slightly that yes, the second yellow card was wrong, they could have appealed that and they would probably have won that appeal.
"They're banging on about unfair referees but no one from Real Madrid's mentioned that he pushed the referee.
"No one's apologised. Ronaldo hasn't apologised and Real Madrid still haven't apologised."
Real have so far had three players sent off this season, with Sergio Ramos seeing red in a 3-0 win at Deportivo La Coruna and Marcelo also removed early against Levante on Saturday.
Gibson refutes claims the Bernabeu side have been harshly treated, however, and added: "The red card for Marcelo at the weekend was a red card.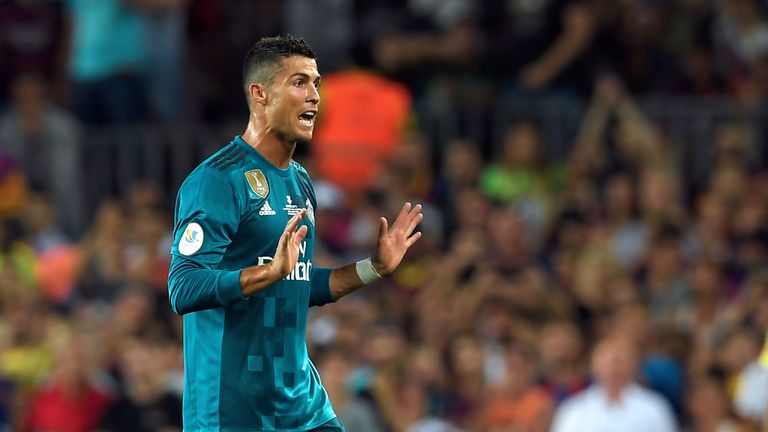 "Ramos was lucky to get the red card as late as he did against Deportivo. The Ronaldo issue - he's clearly missed. If he plays against Valencia or Levante at the weekend, they win the game.
"He is missed though and he's going to be missed but there is a reason he's not playing. It's not a conspiracy against Real Madrid from referees this season."
Click here to hear Jon Driscoll and Terry Gibson discuss Real Madrid's lack of contrition over Cristiano Ronaldo, Ernesto Valverde's free reign on Barcelona's tactics and how La Liga is becoming better organised.