Mourinho didn't expect winner
Real Madrid boss Jose Mourinho admits Bayern's late winner took him by surprise but insists his side will 'go for it' in the second leg.
Last Updated: 18/04/12 9:21am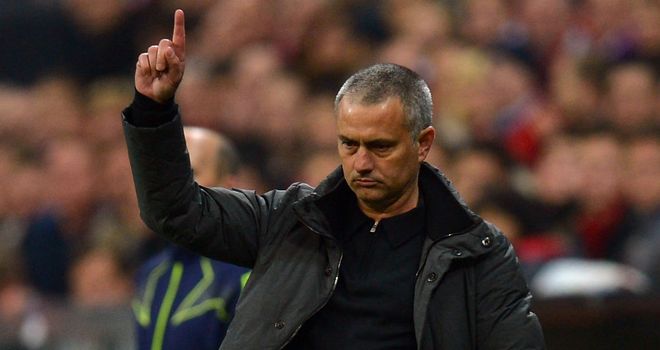 Real Madrid boss Jose Mourinho admits Bayern Munich's late winner took him by surprise but insists his side will 'go for it' in the second leg of the semi-final.
Mario Gomez netted in the 89th minute to put Bayern in control of the UEFA Champions League tie after Mesut Ozil had cancelled out Franck Ribery's opener.
Mourinho thought the Allianz Arena clash had been destined for a 1-1 draw but is determined to come back fighting in the second leg at the Bernabeu next week.
Surprised
He told Sky Sports: "We tried to win. Immediately after the 1-1 we tried to win. But, to be fair, a few minutes later you realise that it's difficult to win.
"They (brought on Thomas) Muller and they tried to play much more direct and tried to create some danger there.
"My team stayed a little bit back, we couldn't keep the ball as well as we did in the first half and in the beginning of the second half.
"So from minute 70-75 I thought the 1-1 draw would be the result and lets control it but the game comes from an action they are strong at, and we knew that.
"We were a better team in the first half, clearly. In the second half the game was a bit broken. I didn't like the second half so much but the game was basically under control by both teams and I don't think anybody believed in the match they could score and win 2-1. I think the second goal came a bit out of context.
"But that's football and they scored and we have to go to the second leg and play at home with a different atmosphere for sure and let's go for it."
Mourinho believes Ribery's opener should have been called offside but refused to condemn the linesman.
He said: "The linesman made a mistake in the first goal, it is clear offside. But that's football.
"I accepted that because I don't think he wants to make that mistake. I think he did it because he makes mistakes like everybody else."
The next week could be crucial for Real as they take on Barcelona in El Clasico ahead of Wednesday's second leg.
Decisive
Los Blancos currently lead Barca by four points at the top of the Primera Liga table and Saturday's clash could be decisive to the outcome of the title.
In contrast, Bayern are all-but out of the Bundesliga title race, sitting eight points behind leaders Borussia Dortmund with three games remaining, and are likely to rest key players for their league clash at Werder Bremen at the weekend in preparation for their trip to the Bernabeu.
While Mourinho cannot afford that luxury, he is happy to still be in the hunt for the league title and Champions League success.
He added: "I prefer to have it than don't have it like Bayern.
"Bayern are eight or nine points behind Dortmund. The match at the weekend means nothing for them, for us it means a lot. But I prefer that. We are fighting for the title, we know that is a disadvantage but it's better like this."