Karim Benzema says there is no evidence of Cristian Ronaldo sulking at Real Madrid
Karim Benzema claims he has seen no evidence of the supposed "sadness" that has gripped team-mate Cristiano Ronaldo.
Last Updated: 09/09/12 4:04pm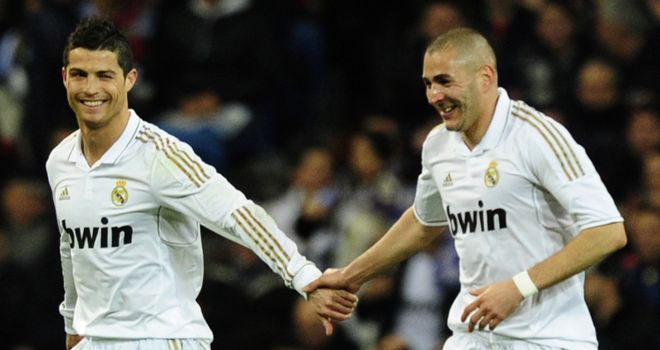 Ronaldo sparked frenzied speculation over his state of mind and his future at Real last week when he failed to celebrate his two goals in a 3-0 win over Granada.
The Portugal international claimed post-match that he was "a little sad", but declined to offer any further explanation.
The revelation gave way to a flurry of speculation on the root cause of Ronaldo's unhappiness, but France international Benzema insists his team-mate was not cutting a dejected figure around the club.
"I don't know why Ronaldo is sulking," said Benzema. "I haven't really followed the story but I haven't seen him unhappy."
The Spanish media were quick to suggest that Ronaldo, who has scored 150 goals in 149 matches for Madrid, was eager to leave the Bernabeu, with big-spending Paris St Germain mooted as a possible destination.
Other theories bandied around suggested he had been left unhappy with the progress of talks over a contract extension.
On Tuesday, Ronaldo took to Twitter to reassure his fans that he remains fully committed to the Spanish champions' cause, and rejected accusations that his current issues were motivated by money.