Sir Alex Ferguson relishes chance to pit wits against Jose Mourinho again
Sir Alex Ferguson says he cannot wait to take on Jose Mourinho's Real Madrid in their Champions League last 16 showdown.
Last Updated: 20/12/12 5:04pm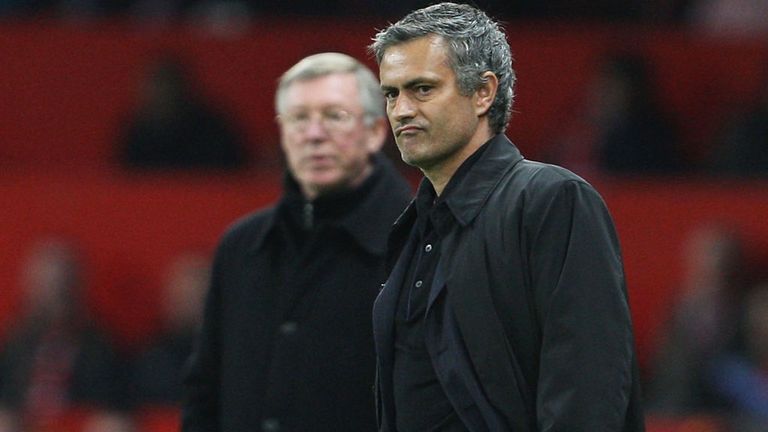 Ferguson will renew his old rivalry with Mourinho, and Cristiano Ronaldo will return to Old Trafford to face his former team-mates.
"It's the tie of the round," Ferguson told United's official website. "It's a great opportunity for our fans to see Cristiano again and also for me to meet up with Jose again - I'll need to order some good wine!"
United defender Rio Ferdinand played in the 2003 match against Real, and he tweeted: "Oh yes, Madrid!! What a great couple a games that'll be!! @Cristiano see u soon bro!!"
Real Madrid director Emilio Butragueno is also excited by the draw.
"I think the fans will be very very happy with the tie, it's very attractive. It's going to be a thrilling experience for everybody," he told Sky Sports.
"Manchester United are a great team and a great organisation, one of the most prestigious in the world. So we are very happy. We have a very good relationship with them.
"We know it is going to be difficult, a very even tie. They are a very strong team with great leadership - Sir Alex Ferguson has been there for 25 years. He's a fantastic manager and he knows how to make the most out of his players.
"So we know it's going to be very, very difficult. But we are Real Madrid - we will do our best and rise to the occasion."
Real's Ronaldo will face his former team and Butragueno said: "It's going to be a special game for him. He's a great professional and he will do his best for Real Madrid. So yes, going back there, it will be very special for him.
"From the players' perspective, they will think 'I want to show what I'm made of'. It is going to be important for us to get our injured players back and I hope we will be at our best for the first leg. In football, you never know."
Manchester United club secretary John Alexander said the meeting of the two European aristocrats is the pick of the ties.
"It is the tie that everybody wanted to see, but nobody wanted to see - they wanted to save it for later in the competition," he said.
"Out of several stand-out ties, I think this is the one, with the traditions of the two clubs in this competition and their past history.
"If history has anything in our favour, our one victory against Real Madrid in this competition was in the year we won the final at Wembley."