Manchester United boss Sir Alex Ferguson wary of Real Madrid in Champions League
Sir Alex Ferguson says the Champions League is Real Madrid's ultimate goal ahead of the last-16 tie at the Bernabeu.
Last Updated: 11/02/13 11:35pm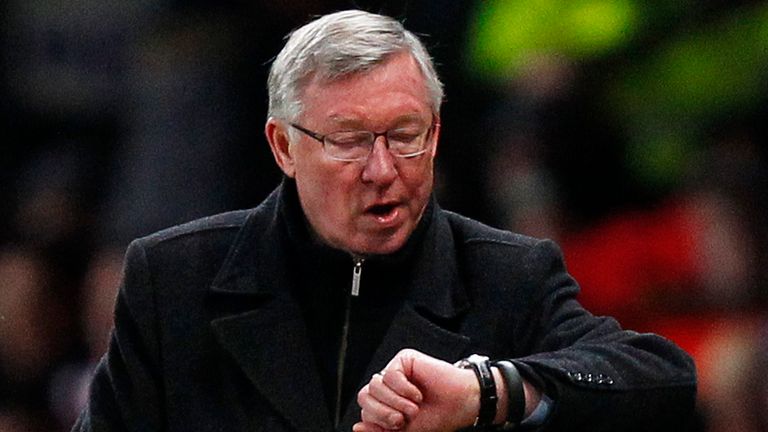 Los Blancos are currently 16 points adrift of La Liga leaders Barcelona and have recently slipped up against Granada, Valencia and Osasuna domestically.
With little hope of defending their Spanish crown, Ferguson believes opposite number Jose Mourinho will be determined to steer Real to claiming Europe's top trophy for the first time in 11 years at Wembley in May.
Ferguson said: "I think their target is the European Cup. They got a bad start in the league and were chasing their tail a bit because Barcelona's form has been incredible. I think Jose has set his targets firmly on the European Cup, no doubt about that.
"It can be harder for us but there's a bit of pressure for them too. At this moment in time we're involved in three things. Jose has still got the semi-final of the Copa del Rey, they play Barca next week and then again in a league game before we play them on the Tuesday at Old Trafford. So they've got a big programme themselves.
"You look at English football and say it's a very, very difficult programme and every game is hard but you look at Madrid's programme at the moment and it's also very difficult. Every game is hard."
"It's always been important to them, the European Cup, and I don't think it (pressure) necessarily applies to Jose as I think he's done a great job there.
"He's really built up a terrific squad of players and could play two teams, like us. I don't think it applies to him but you never know in football.
"I don't think there's any secrecy in his own desire to win the European Cup as, don't forget, he'd be the only person to win it with three different teams so it's a fantastic challenge for Jose."
The two managers have enjoyed a friendly rivalry since first competing against one another during United's Champions League defeat to Porto in 2004.
Ferguson added: "I think he's pitting his wits against me. I think it's a great challenge - the two biggest clubs in the world and obviously it's a big game for us."
You can only watch the best UEFA Champions League coverage here on Sky Sports. Watch Real Madrid v Manchester United exclusively live on Sky Sports 2HD and Sky Go from 6:00pm on Wednesday 13th February. Click here for more details and watch goals from United's route to the last 16.