Cristiano Ronaldo says playing against Manchester United was very emotional
Cristiano Ronaldo admitted that facing his former side Manchester United had been an emotional experience.
Last Updated: 14/02/13 6:16am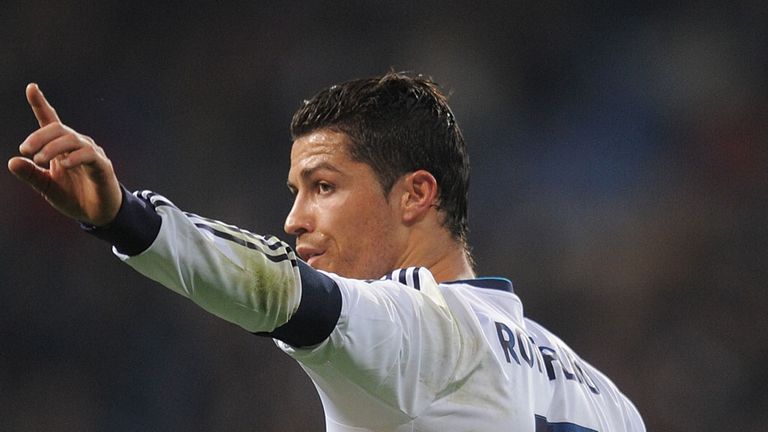 The brilliant Portuguese forward established himself as one of the finest players in the world during a six-year stint at Old Trafford before moving to Spain in 2009.
And, lining up against his old club in the first leg of a Champions League last-16 tie at the Bernabeu, Ronaldo got the equaliser in a 1-1 draw, rising majestically above Patrice Evra after half an hour to head home an Angel Di Maria cross.
But the 28-year-old did not celebrate wildly, showing respect for his former club by simply acknowledging the jubilant Real fans.
"I was in Manchester for six years, so tonight was very emotional for me," said Ronaldo. "I scored a goal but I didn't celebrate out of respect.
"Maybe United are favourites now, maybe not, anything can happen. Sometimes we are better away than at home, so we will see.
"It will be amazing to play at Old Trafford again after four years. It will be another emotional night."
In his post-match interview, Manchester United boss Sir Alex Ferguson said of Ronaldo: "I spoke to him and he is sitting in our dressing room now, talking to the lads.
"He had six years with us and I am proud of how he flourished.
"I blamed Patrice Evra for not challenging for his goal until I saw the replay and felt a bit stupid.
"His (Ronaldo's) knee is about as high as Evra's head - phenomenal. I don't think any other player in the world can do that, certainly not (Barcelona's Lionel) Messi."
RONALDO'S NIGHT IN THE SPOTLIGHT
GOALS
Ronaldo scores goals and lots of them. His latest strike, a brilliant header after an impressively long time in the air, was his 183rd in 180 official matches since swapping red for white in the summer of 2009.
SHOOTING
Never shy of shooting, his first effort came eight minutes in and chances rained in after that, hitting a free-kick against the wall and volleying the rebound just wide. A second-half free-kick flashed narrowly over the bar and he was also denied by David De Gea, Jonny Evans and Rio Ferdinand.
POSITIONING
Ronaldo started the game playing on the left-hand side and generally stayed there, although he occasionally switched to the right, most notably in the first half when he came in to connect with Mesut Ozil's cross and score.
EXTRAS
A first-half shoulder flick into the path of Xabi Alonso caught the eye, as did a humbling of Rafael to lay on a move. But with Manchester United doing their best to keep him under lock and key, showboating was hard, even if he did try to score with a cute backheel.
CLASS
Ronaldo is so used to scoring goals that celebrating is not always on his mind, but it was particularly pertinent that he kept his reaction low key last night, putting an apologetic hand up.