Jordi Alba believes defeat to Real Madrid may help them against AC Milan
Jordi Alba believes Barcelona's defeat to Real Madrid may make them stronger for the Champions League tie with AC Milan.
Last Updated: 27/02/13 12:05pm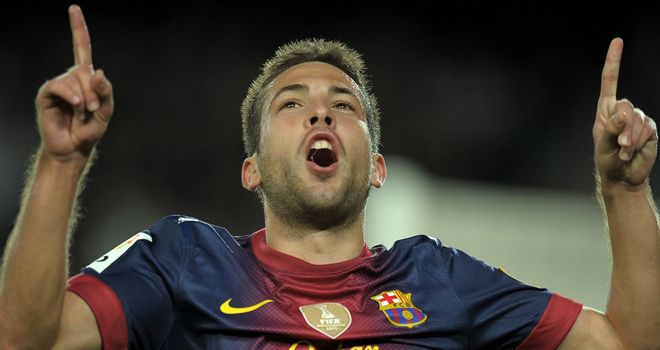 Barca's hopes of trophy treble in the final months of the season were shattered on Tuesday night as they lost 3-1 at home to arch-rivals Madrid in the second leg of their Spanish cup clash, going out 4-2 on aggregate.
That was a major blow for the Catalan giants and, while the Primera Division title looks almost certain to end up at the Nou Camp this season, their Champions League hopes also look in serious jeopardy as well.
Second-half goals from Kevin-Prince Boateng and Sulley Muntari earned Milan a 2-0 lead in the first leg of their last-16 tie against Barca last week, and the Italian outfit will hope to finish off their opponents in Spain on March 12.
However, Alba, who scored a late consolation for Barca last night, says his side's cup exit will provide them with added motivation for their European clash.
"We've given our all and it wasn't to be, this defeat will make us stronger for the Champions League," Alba said.
"These are two key games which we've lost but there's still the return leg against Milan to come which I'm sure will go better.
"If we score an early goal we will have a good chance of getting through, I have a lot of hope.
"The team have shown they can win any tie."
Barca fans would have felt their side had done the hard work in the semi-final after drawing 1-1 in the first leg at the Bernabeu, but Cristiano Ronaldo's 13th-minute penalty last night quickly wiped out their away goal.
Ronaldo then doubled his account for the match in the 57th minute before Raphael Varane made it 3-0 11 minutes later.
That left Barca needing to score four times in the final 20 minutes to go through, and all they could manage was Alba's 89th-minute effort.
The Spain international said: "We're very annoyed, we wanted to get through to the final but the penalty and the second goal caused us a lot of damage.
"We started very well, we've had chances but the penalty really hurt us."
Dani Alves hopes his side can learn from the defeat, with Barca facing Madrid again in the league this weekend at the Bernabeu.
"We didn't compete well, we traded blows and that's not our style, we need to learn from this," he said on his club's website.
"There's no room for error if you don't compete well at this level. They are fast up front and they closed themselves off well at the back.
"The fans know that we tried and they acknowledged our effort, but sadly at this level you can't give away chances."
Midfielder Cesc Fabregas echoed those comments, adding: "We have to give more, we have to pick ourselves up, move forward and win on Saturday.
"We have to learn from this...the two most important titles are coming up and we have to move forward."