Real Madrid coach Jose Mourinho respects Galatasaray's Drogba and Sneijder
Jose Mourinho insists his recent praise for Galatasaray duo Didier Drogba and Wesley Sneijder was genuine.
Last Updated: 03/04/13 7:28am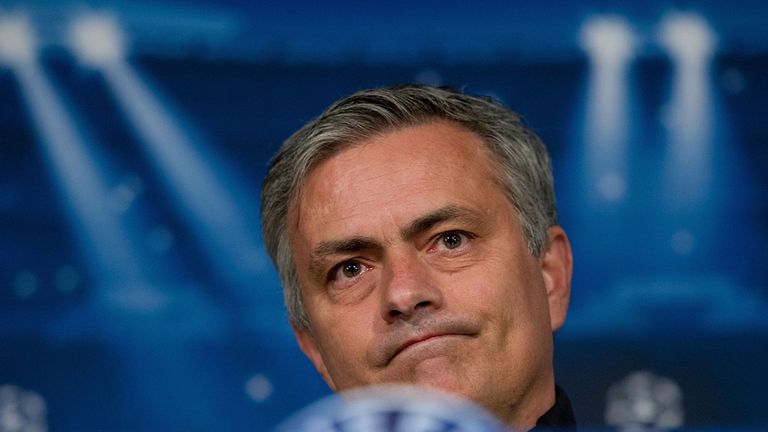 However, he hopes both have an off-night on Wednesday when the two teams clash in the first leg of the UEFA Champions League quarter-finals.
Two weeks ago, Mourinho described Drogba, who he signed for Chelsea in 2004, as "out of this world" and said the Ivorian striker was one of the best players he has ever coached.
In the same interview he said that Sneijder, with whom he won the Champions League with Inter Milan in 2010, was one of Galatasaray's most important players.
Asked during Tuesday's press conference ahead of the Bernabeu visit of the Turkish champions if he was playing mind games by praising his former players, Mourinho responded: "It is not my culture to say things about people without meaning it, nor is it of those two players.
"In our culture, we say things because we believe them and I have no problem in expressing my feelings. They were my players and I love them, but tomorrow we have opposing objectives.
"We want to win and they want to win, they want to play well, but I want my players to make sure they don't play well.
"That's the nature of football. Both players have been very important to me in my career, they have given me a lot, but they aren't my players any more."
On Drogba, he added: "I don't know if Drogba was the greatest player I have coached, because I've worked with so many great players, but I'd say Didier was a great player for me and a great friend, someone who will stay in my life forever."
Mourinho also described Galatasaray as "a great team with great players" and dismissed suggestions that, because Fatih Terim's side were not one of the favourites to win the competition, his team would not be motivated about playing them.
He said: "It"s a difficult game, they have a great coach and they are experienced in playing games at this level.
"Terim will organise his team to defend and work hard to get a good result but they won't have any fear about playing here.
"They have players that were in the best teams in the world, and they will have no problems playing a Champions League quarter-final. In attack they have players that need no introduction: [Burak] Yilmaz, Drogba and Sneijder, who can cause damage to any team.
"There is no greater motivation than getting to a Champions League semi-final, or a final, for that matter," he added.
"We know the history of the club we represent, a team that has won nine European Cups.
"We know that the club had a period of not getting beyond the last 16 for many years, and then we had the period [since Mourinho took charge] - of almost getting to the final.
"We want to go from almost getting to the final to truly getting there. The next step is to get past Galatasaray and get to the semi-finals again."