Champions League: Real Madrid remain hopeful despite Dortmund thrashing
Real Madrid are refusing to concede their dream of a record 10th European Cup title this season is now in tatters.
Last Updated: 25/04/13 10:44am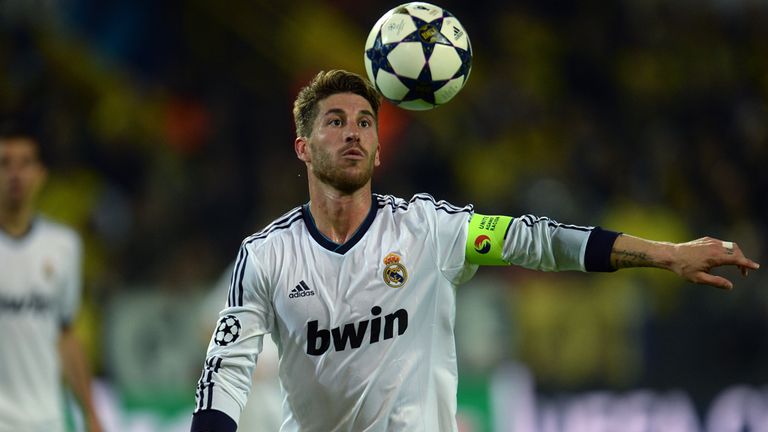 For the second successive night the cream of the Primera Division was embarrassed by Bundesliga opposition as Dortmund followed up Bayern Munich's 4-0 drubbing of Barcelona with a similarly impressive 4-1 victory over Madrid.
Robert Lewandowski scored all four of Dortmund's goal to leave Madrid on the verge of their third successive Champions League semi-final exit.
However, Cristiano Ronaldo's away goal on the stroke of half-time has left the Spanish giants with a glimmer of hope and Jose Mourinho's men are not ready to throw in the towel ahead of next Tuesday's second leg at the Bernabeu.
Defender Sergio Ramos told his club's website: "It's clear that the comeback depends on us. There are 90 minutes at home and we will have to go out and give it everything from the first minute.
"There is a lot of love for this competition and we really want to be in the final.
"Despite the result we have to believe that we can turn things round at home. It's complicated but we have to think that 90 minutes in the Bernabeu is a very long time and it is possible."
Lewandowski gave Dortmund a flying start at the Westfalenstadion with the opener after eight minutes but Madrid were back on level terms by the break thanks to that potentially valuable away goal from Ronaldo, which came following a mistake from Mats Hummels.
Madrid's hopes of reaching the final were left hanging by a threat though as Dortmund scored three times in 17 minutes at the start of the second half, Lewandowski netting all of them.
The Poland international, who has been closely linked with a summer move to Bayern Munich, produced clinical finishes in the 50th and 55th minutes to complete his hat-trick before then thumping home a 67th-minute penalty following a Xabi Alonso foul on Marco Reus.
Ramos added: "Borussia had a great game and showed they are a great team. They were better.
"It hurts to get to the semi-finals to let it slip away with a bad result. We're playing for a place in the Champions League final and we have to pick ourselves up.
"We need to think about the second leg. With the help of the fans, all of the players have to be convinced that we can do it."
Ramos' fellow Spain international Alonso also hopes his side's supporters can make the difference at the Bernabeu.
"We can do it in the second match at home, even though we are not happy with this match right now," he said.
"The support of the fans is going to be crucial in the second leg, but we have to be the ones to make the first move so that they can get behind us. We have six days to wait and we can turn this result around.
"Borussia competed better than us and we have to learn for the next match because we have little margin for error."
Centre-back Pepe added: "We can turn the tie around, it's three goals and the comeback is possible.
"We will try to not make the same mistakes and we will fight every minute as if it were the last to make that comeback possible. We have to play for the honour of the Real Madrid shirt and give our best."