Where will Bale fit in?
With Gareth Bale completing his world record transfer to Real Madrid, Adam Bate takes an in-depth look at how Carlo Ancelotti can best accommodate that Welshman in his team.
Last Updated: 01/09/13 8:49pm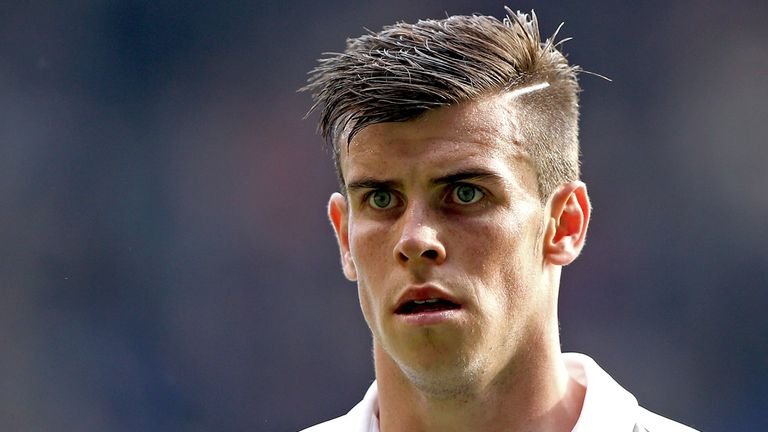 "Florentino Perez has no project," Eugenio Martinez Bravo told AS earlier this summer. The leader of the Plataforma Blanca was launching his ambitious plan to challenge the 66-year-old for the Real Madrid presidency. What Bravo appeared to overlook was that Perez does have a plan. It's called the Galacticos Project. And it continues apace at the Santiago Bernabeu Stadium.
It is not news that Perez specialises in the showpiece signing. The acquisition of Luis Figo from rivals Barcelona was perhaps the most significant reason why he first assumed the presidency of a club that had won the Champions League in two of the previous three seasons. He duly delivered the Portuguese winger at a world record fee and followed up with the signing of Zinedine Zidane for an even bigger sum the following summer.
The minor inconvenience of results on the pitch contributed to the Perez presidency come to an end in 2006 but three years later he was back, breaking the world record twice more within a fortnight of taking the helm. In came Kaka from AC Milan before Cristiano Ronaldo joined from Manchester United for £80million.
While Ronaldo has been a success in Madrid, surely there can be no doubt this is football as vanity project with the numbers just getting bigger and bigger. It's almost as though nobody has the nerve to sidle up to Florentino Perez and ask where these superstar signings are actually supposed to play. The point is moot.
Carlo Ancelotti is the man now tasked with solving that particular puzzle. Or should that be fudging it? The Italian is better placed than most to deal with the challenge, having shown at both AC Milan and Paris St Germain he is effective enough when it comes to handling big names being foisted upon him. Whether saddled with unconvincing and overweight versions of Brazilian duo Ronaldo and Ronaldinho or expected to accommodate a 37-year-old David Beckham, Ancelotti is your man.
In contrast to those parodies of former greats, Gareth Bale is a man playing the best football of his career. And while professional coaches and Football Manager addicts everywhere will envy Ancelotti, the Real coach still faces the conundrum of how best to utilise his €100m man. After all, Real Madrid have just broken their own world record transfer fee to buy the second-best left-sided forward on the planet when they already own the best.
Of course, where players of this quality are concerned there are always options. The most obvious of which is to get Bale to play elsewhere on the field. While Harry Redknapp may have insisted that the Welshman can become the world's greatest left-back, even Real don't pay this kind of money for players to form part of their back-four. A more likely solution is to move Bale to an alternate attacking midfield role...
Options
That process had already begun under Andre Villas-Boas. The chants of the spring of 2012 imploring Redknapp to play Bale on the left flank soon stopped when it became clear that the player could flourish given more freedom, albeit within Villas-Boas' tactical structure. "With Andre, there's a certain shape and a style we play," Bale told Sport magazine. "There's a lot more tactical work. I think it's something that's good to learn."
And learn he did. Bale scored his first Premier League hat-trick on Boxing Day in a 4-0 thrashing of Aston Villa, thriving by cutting inside from a left-wing role. While a left-footed player on that flank would normally be encouraged to get to the byline, this was a prime example of winger as goalscoring threat. "He has been prolific in front of goal," said Villas-Boas. "And I think he's enjoying getting into those positions." Bale scored 21 Premier League goals last season.
In the centre
Interestingly, Bale started to show he can achieve similar results from different starting positions in 2012/13. His performance against West Ham on Monday Night Football in February took the headlines for the astonishing strike that won the game in injury-time. And yet, the game was perhaps equally significant for the fact that Bale played from the centre of the field that evening.
He also showed he could be a threat in that role throughout the derby victory over Arsenal the following month. The Gunners' high-line was exposed by Bale running in behind the defence to latch onto the sort of through-balls that his Bernabeu team-mates are more than capable of producing.
The player himself seemed to suggest mid-season that the opportunity to take centre-stage was a huge advantage. "Being stuck outside is not good all the time," said Bale. "You need to mix your game up and give the opposition things to think about. It got to the stage last year when I was standing on the wing, playing well, with a lot of freedom, hurting teams and being targeted by defences.
"It was a case of teams putting two players on me, staying really tight and trying to mark me out of the game, which is quite easy to do when you're stood right out there with not much room. So I've had to adapt my game. The full-backs can't follow you inside and the strikers occupy the centre-backs, so it gives you that bit of space - if you get into lots of pockets you're able to turn and run at defenders, it's just as good as being on the wing."
Problems
While Bale's goal against the Hammers was spectacular, the switch to the centre was no more than a qualified success. Although there were those goals against Tottenham's London rivals, his overall influence on the matches was arguably hindered rather than helped by his presence in the crowded centre of the pitch. Subsequent performances against Inter, Liverpool and Fulham saw Bale striving for the sort of space denied him in the No.10 role.
The same problems encountered on the flanks - being double-marked and denied space - are even more likely to occur if Bale's presence in the centre becomes predictable. Sir Alex Ferguson famously identified the key problem of taking a central starting position before looking for space on the flanks, rather than the other way round. With reference to Thierry Henry and Wayne Rooney, Ferguson said: "When forwards attack from wide to inside, they are far more dangerous.
"It's funny when I see centre-forwards starting off in the middle against their markers and then going away from goal. Strikers going inside are far more dangerous, I think. When Henry played as a striker, and sometimes when Wayne does, they try to escape and create space by drifting from the centre to wide positions, when that actually makes them less dangerous."
If those are challenges for Bale to address if asked to be the team's No.10, what of the consequences for Real Madrid? Mesut Ozil's subtle promptings from the playmaker role offer the Spanish team an important alternative to the more dynamic offerings of Ronaldo. The two complement each other well.
Can the same be said for Bale? The Spurs man has become accustomed to his new role as finisher rather than creator, providing just four Premier League assists last term. By way of comparison, Ozil managed 13 La Liga assists - a tally bettered only by Barcelona's Andres Iniesta. There are already reports that the unselfish German is concerned by the arrivals of Isco and Bale. It's possible that the changes would be a move in the direction of individualism and perversely make this Real Madrid team easier to stop.
On the right
One solution would be to retain Ozil and Ronaldo in the roles in which they have enjoyed such success and introduce Bale on the right wing in place of Angel Di Maria. Bale did have some joy playing as an inverted winger in the second-half of the 3-1 victory over Manchester City in April. Struggling for space in the centre, Villas-Boas eventually won the tactical battle with Roberto Mancini by moving Bale to the right, from where he provided the assist for Clint Dempsey before netting the third goal himself.
It was a similar story in the home win over Southampton in May. The introduction of Emmanuel Adebayor on the hour mark saw Bale switched to the right once more, this time highlighting another advantage of cutting in from that flank - the ability to shoot on his stronger side, with his late strike winning the game for Spurs.
Problems
Leaving aside the argument that this is not Bale's most effective position, it could also create problems for Real Madrid. Fifty-five goals last season makes a compelling case for Ronaldo's brilliance being the side's greatest asset but his role has also presented difficulties for the team.
Real have come to accept that Ronaldo will 'cheat' on his full-back by not tracking back - not always a problem when he can do more damage than his opponent and the defender is unwilling to take that risk anyway. But his failure to track the runs of Lukasz Piszczek contributed to Real's 4-1 defeat against Borussia Dortmund in last season's crucial Champions League semi-final.
Di Maria did not start that game due to the birth of his child but his hard-working role on the right usually acts as an important counter-balance to the freedom afforded Ronaldo on the left. Could Bale be expected to perform this function and would Real really want to shackle their record signing with defensive duties even if he were able to fulfil them?
Move Ronaldo
Perhaps the final option for Ancelotti is to use Bale on the left and move Ronaldo into a striking role. The sale of Gonzalo Higuain and subsequent doubts over the future of Karim Benzema certainly suggests that Ronaldo might be seen as a genuine centre-forward option. It's a position he has been used in during pre-season games against Lyon and PSG.
The tactic would improve the chances of accommodating both Isco and Bale in the attacking midfield zones and raise the prospect of even greater interchanging of positions if Ronaldo interpreted the role as that of a false nine. The possibility of producing an overload on the left wing could create real problems for opponents, while it would also free Ronaldo of any lingering defensive responsibilities on that side of the pitch. It is also clear that the 28-year-old has the physical presence to operate as a genuine target-man if necessary.
Problems
Moving the main man would represent a gamble both tactically and psychologically. Even Ancelotti seems to acknowledge that any positional shift would require the acquiescence of Ronaldo himself. "Cristiano needs to play in the position that he wants to," he told reporters earlier this month. "I will not change his position because he is comfortable in his usual position. He is the one who has to choose where he plays on the pitch."
While the perception might be that taking a more advanced starting position would inevitably lead to more opportunities, this could prove a misconception. Does it necessarily follow that Frank Lampard, for example, would have scored more goals as a striker? The opportunity to run at opponents from deep with the movement of a forward pulling defenders out of position is an important weapon for Ronaldo that he would be loath to lose.
With Isco an expensive acquisition himself at £26m this still might not have the advantage of freeing up the space for Bale on the left in the long term. And then there's the ongoing speculation linking the club with a move for Liverpool's Luis Suarez. Everywhere you look there are more questions than answers for Ancelotti.
Conclusion
Worrying over where Bale will fit into the Real Madrid team might be considered unnecessary given that there are lots of games to play and rotation can be expected. But this is a team that won 38 of their 51 matches last season and came out with just a Super Cup to show for their efforts. The onus will be on Ancelotti to get it right in the big games. He's got the big players. Whether he is able to fashion them into a team remains to be seen. But then, Florentino Perez has never been a man to trouble himself with such matters.