Transfer Deadline Day: Real Madrid set to clarify on Manchester United target Fabio Coentrao
Real Madrid are set to clarify Fabio Coentrao's future amid reports that a proposed loan to Manchester United collapsed.
Last Updated: 03/09/13 5:04pm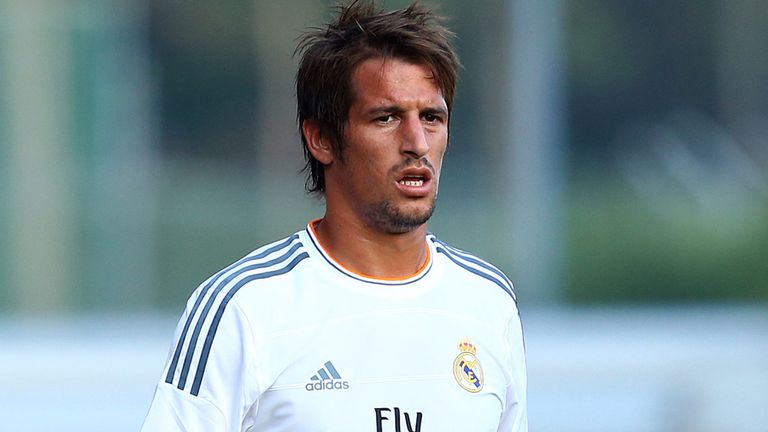 Having missed out on Everton's England left-back Leighton Baines, Red Devils manager David Moyes turned his attentions to Real's Coentrao late on in the transfer window.
However, United's attempts to sign the Portugal international looked to have failed in the final hours, with the paperwork not completed. A statement was released by Primera Division officials, but was subsequently retracted.
On Sunday, after Real's 3-1 La Liga win over Athletic Bilbao, coach Carlo Ancelotti had told reporters that Coentrao would definitely be staying at the Bernabeu.
The Spanish giants were prepared to let the 25-year-old move on, though, but only if they could bring in a replacement left-back. Guilherme Siqueira, who was available from Granada, was their top target.
By the time United firmed up their interest, Granada had agreed to loan Siqueira to Benfica - and subsequently Real decided not to sanction Coentrao's switch.
Moyes' late pursuit of the defender was surprising considering the good form of Patrice Evra last season and in the early part of the current campaign.
The 32-year-old France international remains United's first-choice left-back, with Alex Buttner set to stay at Old Trafford as his deputy following talks over loan deals with both Besiktas and Celtic.The news will be greeted with dismay by United fans, who have been less than impressed with the club's dealings during the window.
And it leaves Moyes in the tricky position of needing to explain to Patrice Evra why he felt another left-back was required.
One theory was that Coentrao would have operated at left-back, with Evra in a more advanced role, which he played during his early years as a professional.
Nevertheless, Evra's form last season and the early weeks of the current one was not that of a man who needed replacing.
Now the France star will remain in his favoured role, with Alex Buttner also set to stay at Old Trafford as his deputy following talks over loan deals with both Besiktas and Celtic.