Primera Liga: Gareth Bale hopes he can follow in the footsteps of previous Real Madrid greats
Gareth Bale says he hopes that one day he will be mentioned in the same breath as some of the Real Madrid greats.
Last Updated: 06/09/13 8:30am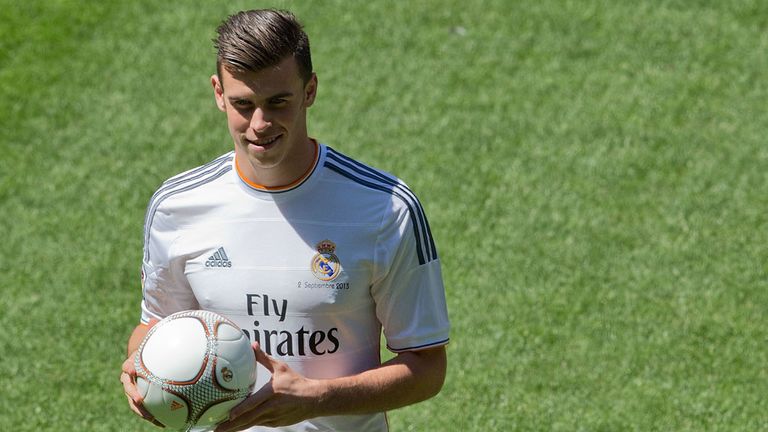 Bale has joined the Spanish giants from Spurs for a world-record fee and is now planning to live up to his billing.
Asked about the great players Real have had in the past, Bale said: "There have been the likes of (Zinedine) Zidane and obviously the previous ones, which were a bit before my time, like (Ferenc) Puskas and (Alfredo) Di Stefano.
"There are lot of players who have been unbelievable here, world class and legends of the game. Hopefully, I can become the player I want to be, and hopefully be in that league."
Bale will be managed by Carlo Ancelotti at his new club and said: "I think he's a great manager, he's won at every single club he's been at, I think.
"I've spoken to other players who have had him as manager and it's been nothing short of he's the best manager they've ever had. So obviously that was a factor in me coming, working with a great like himself.
"As for the squad, it's an absolutely amazing squad, I've got to work hard to get in the starting XI. There are world-class players here and I obviously came here to be a part of it and to try and get into the starting XI and win trophies."
Best player in the world
Real Madrid's current star player is the former Manchester United man Cristiano Ronaldo and Bale said: "For me, he's the best player in the world.
"It will obviously be a pleasure to play with him. You can only learn off the best and he certainly is that. Hopefully we can work together and provide a lot more trophies for Real Madrid."
Bale hopes one of those trophies will be the Champions League, adding: "Champions League football is a massive reason for me to come here and I don't just want to be playing in it, I want to be winning it. Coming to a club like Real Madrid is exactly where I want to be to win things.
"I'm sure everybody at the club wants to win it and I definitely want to help achieve that goal."