Real Madrid chief Florentino Perez says Gareth Bale could play against Malaga
Florentino Perez has stressed there are no major doubts over Gareth Bale's fitness and he could feature this weekend.
Last Updated: 15/10/13 1:49pm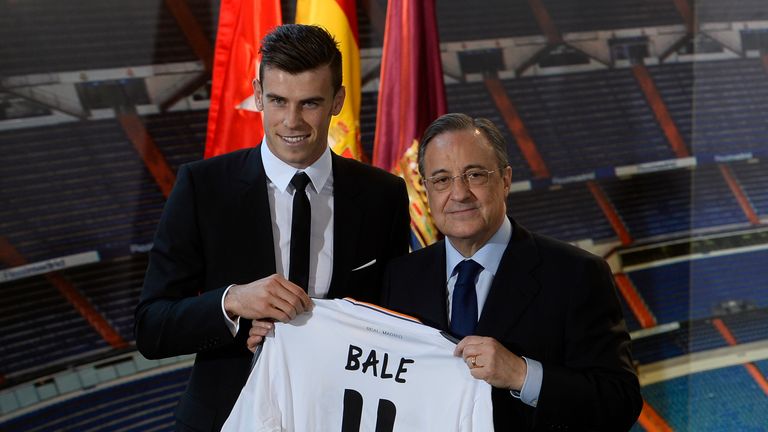 Reports emerged over the weekend from Madrid-based Marca, claiming that Bale had a slipped disc in his back and could require surgery.
It was claimed that Real first found out about the problem during Bale's medical ahead of his record-breaking move to the Spanish capital at the start of September.
But Perez has rubbished these claims, and told television show Punto Pelota: "I'm surprised. It's difficult to understand such a cruel story.
"It was the first time I had heard talk of that subject (a herniated disc). The paper also wrote that I had been told about this problem during the medical. It's totally false.
"It's very serious as it plays with the image of Real Madrid and Bale. It can be very damaging and is not a minor issue. We want to know why it happened.
"It surprised us even more when we found out a reporter from the paper (Marca) called our medical team, as well as Bale's representative, and decided not to even put a line in about what they said.
"It was something that was intended to do harm and that's why we are surprised. It affects the image, dignity and economic value of Bale.
"The player and his team are worried because they have contracts and campaigns that this could affect. They've said he has a hernia when he doesn't and our lawyers are looking at what can be done."
Perez insists that Bale could feature against Malaga and said: "Gareth is calm and ready and is hoping to play on Saturday.
"Everybody knows that, because he did not have a proper pre-season, he suffered a thigh strain.
"He is training well and wants to play and demonstrate that all this has just been an unpleasant and unfortunate start."