Real Madrid blast FIFA president Blatter over comments towards Ronaldo
Real Madrid have blasted FIFA president Sepp Blatter, accusing him of "unacceptable" comments towards Cristiano Ronaldo.
Last Updated: 30/10/13 6:25am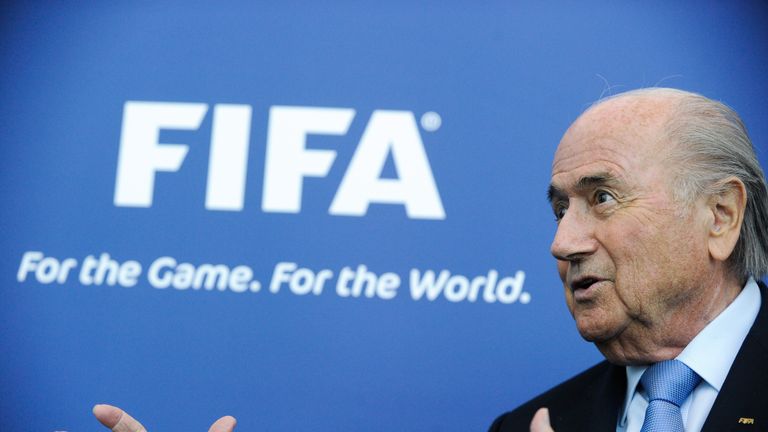 The Real Madrid forward and his club interpreted comments made by Blatter in an address to the Oxford Union last week as a serious slight on the player.
Ronaldo appeared to feel Blatter was mocking him after being asked to compare the Portugal international with Lionel Messi.
Madrid president Florentino Perez wrote a letter to Blatter to express his "disgust", with Blatter writing back to apologise and also saying sorry personally to Ronaldo on Twitter.
Madrid coach Carlo Ancelotti also claimed Blatter's behaviour showed a "lack of respect".
Blatter had described Messi as a "good boy" before going on to say, in apparent reference to Ronaldo, that "one has more expenses for the hairdresser than the other".
The FIFA president then concluded by saying he preferred Messi of the two players.
Perez was particularly outspoken in his criticism of the comments, saying the matter was "a huge disappointment among the Madrid family, especially since these unfortunate and unacceptable actions come from the president of world football's governing body".
His letter added: "On the one hand, they are unfair to a football player who has millions of fans around the world...and finally we understand that your comments may influence the votes of those who have to decide on who should receive the award (Ballon d'Or)."
Perez said the club were "deeply disappointed" and wanted to "record our disgust". The letter asked for Blatter to retract his comments and the FIFA chief wrote back looking to diffuse the row.
He said: "I want to clarify that for me Cristiano Ronaldo is at the same level as Messi and they are both outstanding players, each in their own way. Sorry that this situation at a university event caused this much hurt and I apologise for it.
"It was never my intention to embarrass or disrespect to Real Madrid or one of their players or their fans."
Both letters were reproduced on the Madrid website.
Ronaldo also had his say, posting on his official Facebook page, alongside a video clip of Blatter's comments: "This video shows clearly the respect and consideration that FIFA has for me, for my club and my country. Much is explained now.
"I wish Mr Blatter health and a long life, with the certainty that he will continue to witness, as he deserves, the successes of his favourite teams and players."
Blatter wrote later on his official Twitter account: "Dear @Cristiano. I apologise if you were upset by my light-hearted answer at private event on Friday. I never meant to offend you."
Blatter's original comments came during a question and answer session at Oxford University on Friday.
Blatter started off by heaping praise on Messi, saying: "They are both exceptional players but they are totally different and football is about the difference of styles, because Lionel Messi is a good boy who every mother and father would like to have at home.
"He's a good man, he's very fast, he's not exuberant, he's playing well, he's dancing, he's a kind man, he's a good boy.
"And that's what makes him so popular and naturally he will always get a lot of goals because he is this nice man, and he plays well and scores goals."
Then, when appearing to talk about Ronaldo, Blatter said "the other one, this is something else. The other one is like a commander on the field of play" before the FIFA chief stood up from his chair and walked across the podium in comic fashion.
Blatter continued: "But this is the other side of football and that's good to have such commanders on the field also. Because you don't have the same attitude, and that gives life to football and one has more expenses for the hairdresser than the other, but that doesn't matter...
"So I cannot say who is the best...I like both of them, but I prefer Messi."
I wish Mr.Blatter health and a long life, with the certainty that he'll continue to witness the successes of his favourite teams and players

- Cristiano Ronaldo (@Cristiano) October 29, 2013
Dear @Cristiano. I apologise if you were upset by my light-hearted answer at private event on Friday. I never meant to offend you. (1/2)

- Joseph S Blatter (@SeppBlatter) October 29, 2013
I am an honorary 'socio' at Real Madrid @cristiano & explained we've many talented players in world game, including you. Best wishes. (2/2)

- Joseph S Blatter (@SeppBlatter) October 29, 2013