World Cup: Spain's Iker Casillas disappointed with tough Group B draw
Iker Casillas has admitted he disagreed with how the World Cup draw was made after Spain were put in a tough group.
By Francisco Acedo
Last Updated: 10/12/13 5:15pm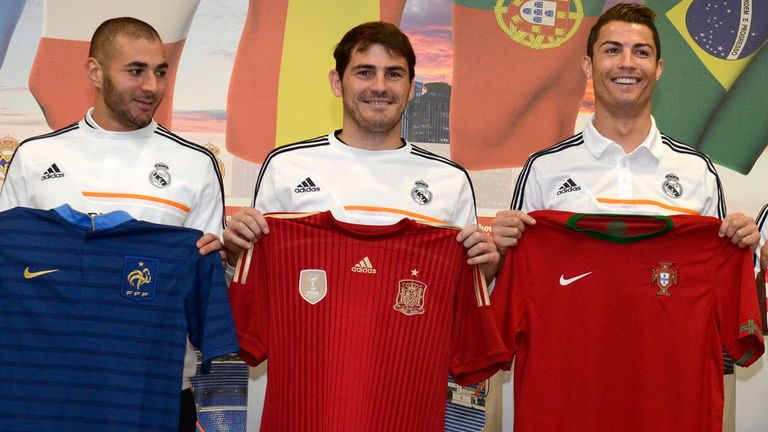 Spain kick off their bid to defend the trophy on 13th June against the Netherlands in a repeat of the 2010 final, with Chile and Australia the other two sides in Group B.
The team finishing second in the group will then meet the winners of Group A, which is expected to be host nation Brazil.
The seeds were based on the latest world rankings but Spain goalkeeper Casillas has suggested that he could not understand how the two finalists from South Africa ended up in the same group.
He said: "It is true that I don't agree how they did the draw. I agree the draw is sometimes hard to understand, especially the coefficients.
"In any case it is not us who decide how they do it and where they decide which team is better than another.
"It was a difficult draw for the team. We start against the runners-up in the World Cup, who have also had a fantastic qualifying campaign.
"Then it's Chile, and in the last three years we've struggled to beat them."
Casillas recognises that opposing teams will have added motivation when facing the world champions, but believes Spain can come through a tough draw and win their fourth major tournament in a row.
He said: "In the last few tournaments, like in South Africa, we have stumbled in the first game and in the end beaten strong nations like Germany and Italy.
"We know that it'll be very difficult because everyone wants to be champions, not just Spain, but after the last four years we know that every team will give 100 per cent against us and will want to beat us.
"But we go there with the aim of defending the title which we won in South Africa and try to make the people of Spain proud again. We can promise that we will make a huge effort, we will be up for it and we are full of hope that we can do it."
Casillas, who will be 33 by the time the tournament starts, has given little thought as to whether it will be his final World Cup.
He said: "It's December. We'll see what happens before June and when the squad is named. If you are in that 23-man squad, then you enjoy it and train with your team-mates as if it were the last big tournament you're going to play in.
"It's true that goalkeepers have more longevity, but sometimes your mental state is more of a factor than your physical state."