Real Madrid star Cristiano Ronaldo hails Gareth Bale as incredible
Cristiano Ronaldo believes Gareth Bale is 'incredible' and has hailed the start to his Real Madrid career.
By Lucas Brown
Last Updated: 11/12/13 3:10pm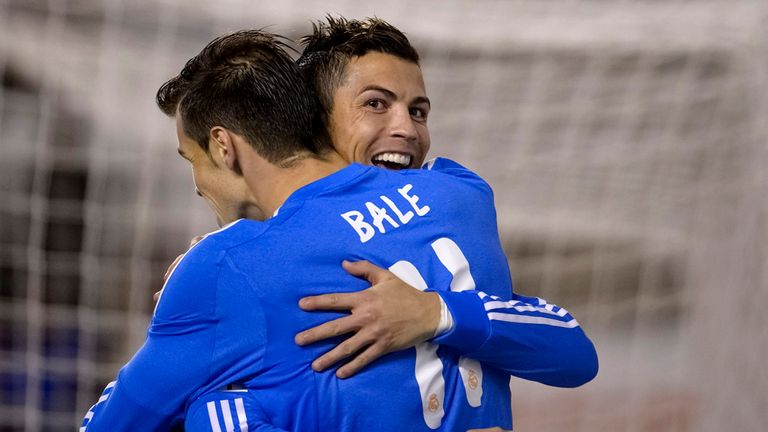 Bale has scored nine goals in his first 14 appearances for the Spanish giants since his record-breaking move from Tottenham in the summer.
There has been no issue with Bale and Ronaldo fitting into the same side, and the Portuguese is delighted for the Welshman.
"What he is doing is incredible," he told beIN Sport.
"He had a difficult start partly due to a small injury that he suffered.
"Also, he had great pressure on him but now he is in great form and we are all helping him.
"The fans love him now and he is a fantastic player who will help us to win trophies."
Meanwhile, Ronaldo has played down the importance of winning the Ballon d'Or.
Ronaldo has been largely ignored for the biggest honour in football having previously won it once in 2008 whilst at Manchester United.
Lionel Messi has won the honour for the last four years in succession, but Ronaldo is favourite to beat the Barca star to the award.
"The Ballon d'Or is not the most important thing in a footballer's career," Ronaldo told beIN Sport. "There are many more years.
"It is important for many players and I can understand that, but it's just an individual trophy.
"Of course, it would be nice to win but it would not be the end of the world otherwise. Moreover, great players who deserved it have never won it."
Ronaldo maintains that he is delighted to have signed a new long-term deal with Real.
"This is my house, my home, I feel good. I love the fans, I love the staff and I have everything I need here," said the 28-year-old.
"That's why I signed a new contract. I don't know where I'll end my career but I am happy here for now."