Copa del Rey: Barcelona's Gerard Pique expects another tough clash at Levante
Gerard Pique is expecting another tough encounter when Barcelona head back to Levante in the Copa del Rey.
Last Updated: 20/01/14 6:04pm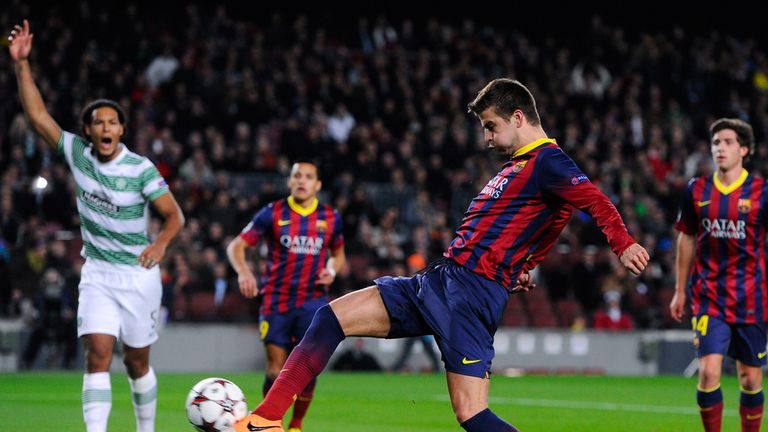 Gerard Pique is expecting another tough encounter when Barcelona head back to Levante on Wednesday night.
The Spanish champions were frustrated by Joaquin Caparros' men in the Primera Division on Sunday, with Pique's goal their only one in a 1-1 draw.
That point did little to boost their title chances as they slog it out with the two Madrid clubs, but they will switch their attention to the Copa del Rey this week as they meet the same opponents at the quarter-final stage.
They are on the road for the first leg and Pique knows Levante will make it just as hard for his side.
"I think the game on Wednesday will be similar. They'll close themselves off at the back, it's not the first time they've played like that against us," he told his club's official website.
"It wasn't a great day, we wanted to win but it wasn't meant to be. We don't feel bad because we created chances - we just didn't convert them."
Barca's fourth dropped points this season allowed Real Madrid to close the gap on them at the top to just one point - Atletico are only a point ahead of Real too - and Carlo Ancelotti's men will look to continue their form against Espanyol on Tuesday.
They beat Real Betis 5-0 on Saturday - a result which cost Juan Carlos Garrido his job - with all the goals shared around.
The last of them came from Alvaro Morata, the young striker who has been linked with Arsenal, but he is keeping his eye on getting a spot at Real.
"Despite everything that is being said, I'm happy here. I want to stay. I have spoken with the coach and the club, and I talk every day with my team-mates," he said.
"If I have to help by playing a few minutes here and there, I'll do it, but it's even better if I get a few more.
"There are a lot of things being said, but I want to stay here and keep working hard and improving. I have been at this club for my whole life and it is the best in the world. The best are here and I want to help when I am needed."
On Thursday night Atletico square-up to Athletic Bilbao having seen their hopes of going top dashed with a 1-1 draw against Sevilla.
Diego Simeone's men have maintained a relentless pace all season in order to keep Barcelona in check, and their coach refutes any suggestions they are tiring.
"I do not share the issue of fatigue. When you draw, you have not lost because the team is tired," he told his club's official website.
"We found ways (against Sevilla) which means there was creativity in the game, not exhaustion."
The other last-eight tie pits Real Sociedad against Racing Santander on Wednesday.