Real Madrid's Gareth Bale happy to be playing alongside Cristiano Ronaldo
Gareth Bale is adamant he has not felt the pressure of being the world's most expensive footballer at Real Madrid.
Last Updated: 21/03/14 10:34am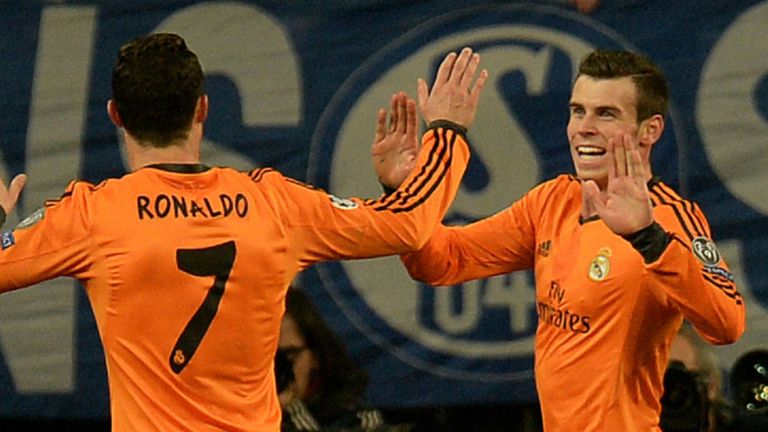 Wales international Bale completed his record-breaking move to Real from Tottenham Hotspur before the summer transfer window closed following protracted negotiations between the clubs.
Bale acknowledged that he had to be patient during the talks, but he has not been feeling the burden of eclipsing team-mate Ronaldo as the costliest signing in football.
"It felt like a lifetime," Bale told The Sun. "The negotiations went on and on. It wasn't a normal transfer, it was the biggest in the world.
"Those things take time, so I had to be patient. But it worked out for the best.
"For me, the price isn't important. You think about it but it's not important. The most important thing is to go out on the pitch and do what I do best.
"I just wanted to focus on football. It was a bit difficult at the start, not having a pre-season, but given time and being able to get my fitness up, I felt no pressure.
"I could come into the team and try to do my best."
Bale's arrival at the Santiago Bernabeu prompted suggestions about whether the attacker would be able to enjoy a harmonious relationship with Ronaldo.
However, with Real currently top in La Liga and through to the quarter-finals of the UEFA Champions League, Bale is confident that results have helped to demonstrate how well he works with Ronaldo.
Bale added: "When I first came here they made a lot about whether we might clash. But we get on very well.
"We're working well for the team, scoring and creating a lot of goals together.
"I'm enjoying playing with him. He's the world's best player, so how can you not enjoy it?
"From the moment I came to Madrid he's done nothing but help me and give me good advice."