Transfer news: Real Madrid president Florentino Perez downplays big signing
Real Madrid chief Florentino Perez has suggested that the club may not look to make a 'Galactico' signing this summer.
Last Updated: 27/05/14 1:45pm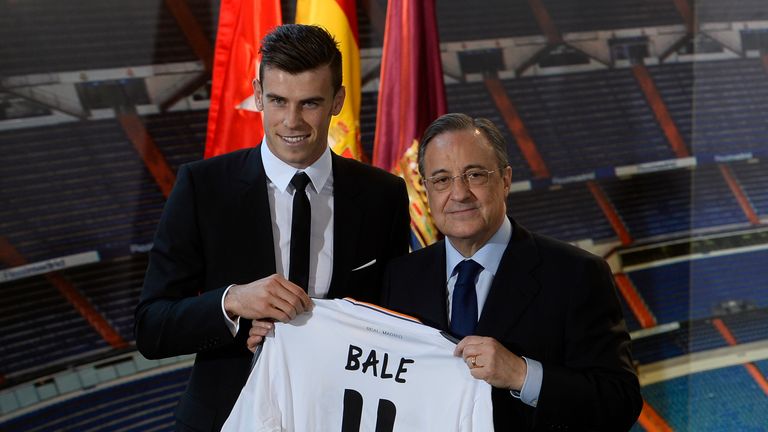 Luis Suarez and Ivan Rakitic are just two names to have been strongly linked with the European champions - who have had the transfer tactic of every year bringing in at least one major singing - a Galactico - during Perez's two tenures at the Real helm.
However, whilst admitting he likes good players such as Suarez and Rakitic, Perez is not sure if any new players will arrive.
"I like all good players, but especially those of Real Madrid, but I like them all," he told Spanish radio station Cadena Cope.
"Luis Suarez? There are many good players, we will keep improving the squad."
Asked about a Galactico signing, he added: "There are not too many, they're all here!"
One Galactico who Perez is delighted with is the most expensive of them all, Gareth Bale - who scored in the Champions League final victory over Atletico Madrid at the weekend.
"One goal is not worth €100million, but Gareth was the best player in the Premier League. The press attacked the player but he has demonstrated his quality at decisive points throughout the season."
A number of the current Real squad have been linked with moves, but Perez insists he is happy to keep hold of his players.
"I am friends with the all the presidents and they all call me when they want a player - but if they called me at this time, I would tell them nobody is for sale - but in football you never know, last year we sold Ozil when nobody expected it - football is like that."
Iker Casillas is one of those linked with a move, as he shared the number one role with Diego Lopez last season.
But Perez again does not see him leaving and said: "I do not think the final in Lisbon was his last match as a Real player."
Perez did not rule out the prospect of selling some squad players such as Alvaro Morata with a view to them returning in the future as they did with full-back Daniel Carvajal.