Champions League: Real Madrid's Ronaldo tips English clubs to impress
Last Updated: 14/08/14 10:47am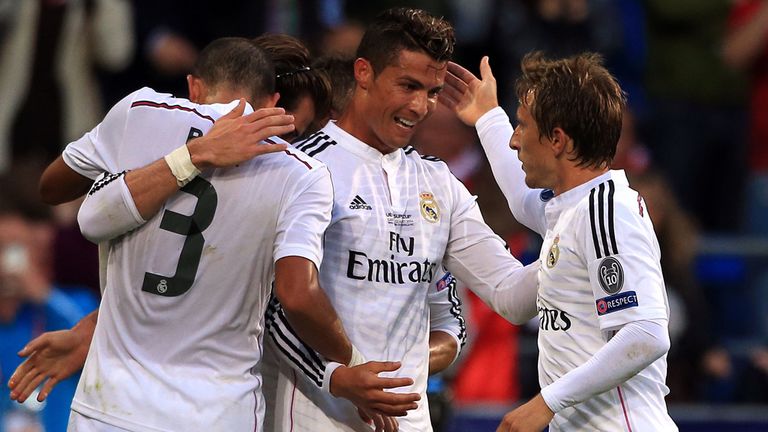 Real Madrid star Cristiano Ronaldo believes English teams will be pushing for honours on the European stage this season.
The ex-Manchester United winger looked in sparkling form with two goals helping his side to a 2-0 Super Cup victory over Spanish rivals Sevilla in Cardiff. 
It was a complete turnaround after a miserable injury-hit World Cup for the Portuguese man and reigning world player of the year, named the official man of the match by his former boss Sir Alex Ferguson.
Asked about Real's chances of making Champions League history by retaining the title, the 29-year-old said: "Madrid are going to be the first team. I hope so.
"Maybe we have the potential to be the best but I believe the players that Real Madrid have bought this season - James (Rodriguez), (Toni) Kroos and (Keylor) Navas - are going to give more support to the team and more quality.
"I'm very happy with the quality that we have in the squad, so it's fantastic and we are going to try and win all the trophies."
England's Champions League challenge will be spearheaded by Manchester City, Liverpool and Chelsea while Arsenal will be aiming to overcome Turkey's Besiktas in the play-off round to join them in the group stages.
"English teams are always there, they are always strong teams," Ronaldo added. "Let's see when the league starts and they buy the new players. We have to see what is going to happen."
After brushing Sevilla aside, Ronaldo paid special tribute to his fellow forward Gareth Bale, the Wales international setting up the first goal with a wonderful cross on the half-hour mark.
"Bale was fantastic, he played amazing," he added. "He looks strong, he looks fast and is a very important player for us. He had a fantastic season last year so it doesn't surprise me the way he plays.
"He showed his quality week by week and it's great to have Gareth with us and be part of the success of Real Madrid.
"I'm very glad to play with him to because he understands me and I understand him. He does fantastic passes and I love it."
Bale, the world's most expensive player following his £86million move from Tottenham a year ago, is now fully settled at the club and expects Real to be a major force again this season.
"When I came to Madrid I wanted to settle down off the pitch as soon as possible because I knew if I could concentrate on my football I knew what I was capable of," Bale said.
"I know everybody in the squad now. I feel comfortable and the second season you're obviously feeling a lot better. You miss some things about home, but I'm thoroughly enjoying it in Madrid and looking forward to the season.
"In sport anything can happen but hopefully we'll be strong again. We feel confident and will be trying our hardest to win every trophy."