Transfer news: Valencia striker Roberto Soldado hints at move overseas
Valencia's Roberto Soldado has hinted he may one day be interested in leaving the Spanish league and moving abroad.
Last Updated: 13/06/13 2:47pm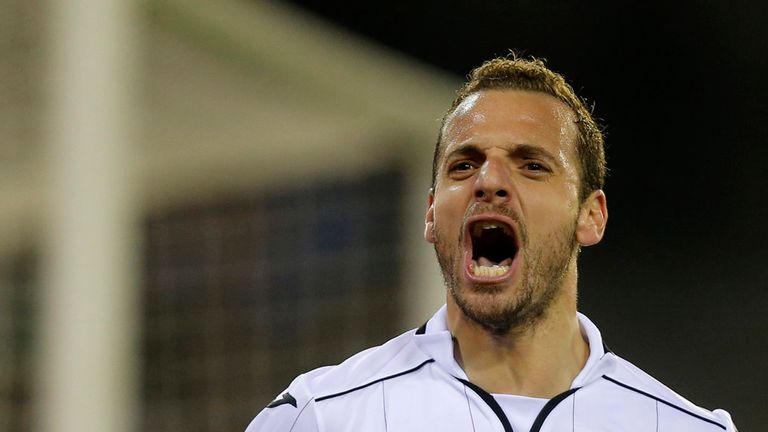 Soldado is currently in Brazil preparing for the Confederations Cup with the Spain squad, and sharing a dressing room with Premier League players such as Juan Mata, Fernando Torres and David Silva.
He has now admitted he has considered following their example, telling Movistar website: "I'm not closing the doors to anyone.
"I know that some of my Spain team-mates have left Spain and done very well. The Premier League and the Bundesliga are very attractive leagues for any player because of the atmosphere and reputation of these countries."
Soldado has been at Valencia since 2009 but the club have failed to qualify for the UEFA Champions League next season.
Another fact that could tempt him to leave Spain is that his club have just undergone their third managerial change in 12 months, with Miroslav Djukic replacing Ernesto Valverde.
Soldado admitted he was sad to see the coach leave Valencia.
"It's a shame, he resuscitated the team," he said.
"We were lifeless when he arrived, we were not delivering on the pitch and when he came he delivered a radical change. He had a very positive impact, despite the fact we couldn't achieve our objectives."
One club to have definitely shown an interest in Soldado is Atletico Madrid, who need to sign a striker to replace Colombian hit man Radamel Falcao.
However, the Spaniard was less enthusiastic about the prospect of a move to Diego Simeone's side.
He said: "Atletico are a winning team and they have proved that in the last couple of years. Their coach has changed the dynamic at the club. It's a huge club and it's an honour that they are interested in me, but I'm at Valencia, I have a contract there and for now I want to complete it."