Bayern Munich and Borussia Dortmund play pre-season friendlies
Bayern Munich and Borussia Dortmund averted a first meeting of the season in a pre-season tournament in Monchengladbach.
Last Updated: 21/07/13 1:01pm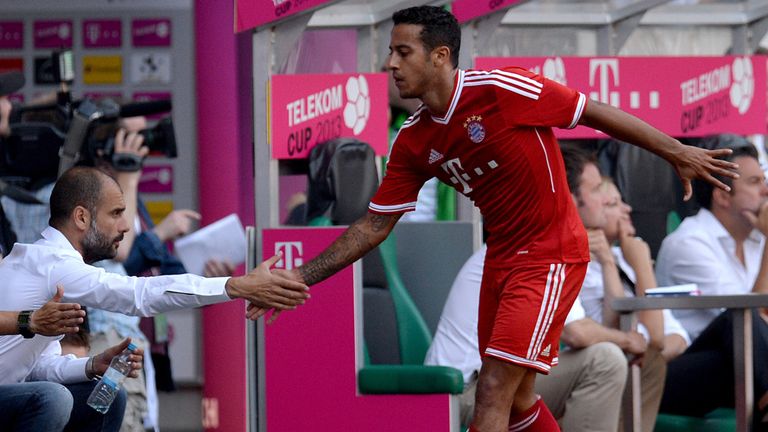 Bayern demolished Bundesliga rivals Hamburg 4-0 in their first real test under new coach Pep Guardiola, while Dortmund fell to a late penalty against the hosts Borussia Monchengladbach.
New Bayern midfielder Thiago Alcantara shone on his debut less than a week after arriving at the champions, although the goals were scored by Jerome Boateng, Mario Mandzukic, Toni Kroos and Thomas Muller.
Hamburg could perhaps be grateful that the game lasted only an hour and not 90 minutes as memories of their 9-2 humbling in Munich last season sprang to mind.
For Guardiola, however, it was an ideal start to life as Bayern coach.
"We're happy," he said to Sat.1 television. "We're in the final and our defenders pushed forwards well."
A Filip Daems penalty put Gladbach in the final, despite Dortmund controlling their semi-final clash at the Borussia Park stadium.
Elsewhere, Augsburg picked up a notable victory against ambitious Ligue 1 side Monaco with Sascha Molders on target in a 1-0 win.
Monaco, coached by former Chelsea coach Claudio Ranieri, had new signings Radamel Falcao and Joao Moutinho in their starting XI.
Stuttgart also picked up a confidence-boosting win ahead of their first appointment of the season in the Europa League at the start of next month by defeating Valencia 1-0, thanks to a Daniel Schwaab goal.