Tata Martino may not be right man for Barcelona, says Guillem Balague
Barcelona may have made an error by appointing Tata Martino as manager, says Guillem Balague.
Last Updated: 03/12/13 10:54am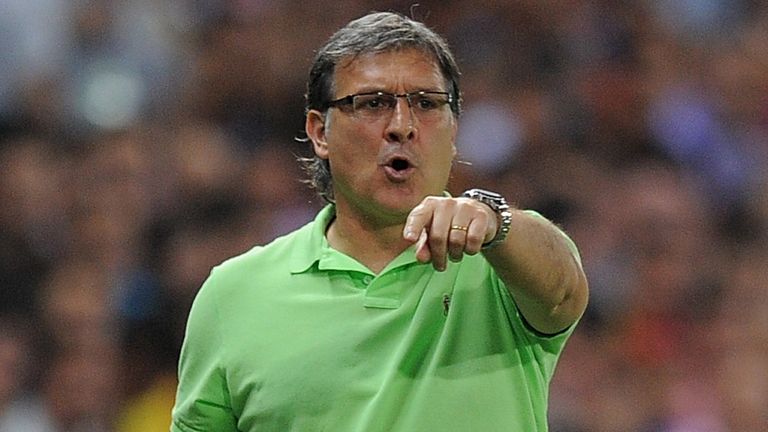 I didn't say it to provoke people, I said it because I could see the weaknesses of Barcelona - weaknesses that will become more obvious as the season progresses - and the simple way in which Real play.
Everybody fits into the system well and I thought that the return of Xabi Alonso and the fact Gareth Bale would get better meant that Real would be on the way up.
Barcelona are another exceptional team but they are not as special as they used to be and are basing their football on individual talent, not team effort.
There is no team structure, too many players doing their own thing and others not on form and the decision from Tata Martino has been to stretch the team with direct football more often than not.
They are still having possession but, as we saw against Athletic Bilbao, possession in their own half. There are also too many diagonal balls which stops them from pressing high.
Martino is not the problem, though.
Decision
The problem is that the club went for Martino when perhaps they should have analysed a little better what the team needed, which is not a revolution but an evolution.
Who could do that evolution would have been a decision for the club but the list is not very big - Ernesto Valverde is one man, Frank de Boer could have been another one, Luis Enrique perhaps, but not many more.
Tito Vilanova was obviously a solution but his health didn't allow that to work, so the club has taken the Martino road and I just don't see how that can be good for the team.
Atletico Madrid, meanwhile, continue to produce amazing statistics.
In the history of La Liga, only the Barcelona of Tito Vilanova had more points (three) than the current Atletico team at this stage of the season, which is a wonderful story.
Adrian is playing well and everyone who comes off the bench, like Raul Garcia or Mario Suarez, increases the level of the team, so Diego Simeone is one of the coaches of the year.
It is amazing he is not nominated for the Fifa award.
Guillem answers your questions...
Got a question for Guillem? Then send it in using the feedback form below, and then look out for his answer next week...
WILL BARCA BUY?
Is there any chance that Barcelona might sign Thibaut Courtois or Sergio Aguero given that Lionel Messi is getting injured quite often and Victor Valdes is leaving Barcelona? What about the signing of a new full-back given that Jordi Alba, Dani Alves and Adriano are injured? Barcelona
GUILLEM SAYS: Barcelona will not sign Courtois or Aguero. They are thinking about looking for a centre-back in January as they see that Puyol is struggling to play two games in a row, but Barcelona needed some of the big names to be moved on two years ago, in the same way Pep Guardiola did with Ronaldinho, Deco and Samuel Eto'o. So some hurtful decisions must now be made.
CHEERIO TO MARTINO?
Do you think Tata Martino was just a stop-gap appointment and won't be at Barcelona for a long time or do you think he is the man to take them forward? Jee
GUILLEM SAYS: Tata was not a stop-gap appointment but the way this season is going I don't see Barcelona succeeding against the big teams in the big moments of the season and that means they will have to reflect on whether Martino should continue for another year.
VILLARREAL'S VIGOUR
Hi Guillem, Villarreal continue to march on with a comfortable 3-0 win. Firstly, do you think they can sustain this over the season? I think they lack the quality in depth that some of their rivals possess at present, so will funds be available for them to strengthen in the window with a Champions League place a real possibility? Tom
GUILLEM SAYS: I think they will continue at the top as the brand of football they play is, like Atletico Madrid's, based on faith in the coach and improving individuals who already have quality, like Cani, Giovani dos Santos and Bruno, who could get into Spain's national team if he maintains his form.
BETTER TIMES FOR BETIS?
Hi Guillem, How do you rate Real Betis' chances of staying up this season? The losses of Benat and Canas seem to have hit them hard, so are there any plans to strengthen in January? Many thanks for the continued excellence of your reporting. Ben
GUILLEM SAYS: The team has been left in the hands of the Director of Football who hasn't made many good decisions. Alvaro Vadillo is a good example of a player who has increased his level, but Ruben Castro and Jorge Molina have been struggling with injuries and they are lacking confidence and personality. Pepe Mel has only taken two points out of 18 so he is hanging on hoping the strikers start scoring - and they stop conceding.
MADRID TO MANCHESTER?
Hi Guillem, With the January transfer window around the corner, Man United have been linked with Koke quite lot. Do you know if they've scouted him and if there's a genuine interest in him and if so would he join United whether it be in January or the summer. Do you know if United's interest in Ander Herrera is dead or do you think they will come back and offer the buy-out clause in? Thanks, Jason
GUILLEM SAYS: Man United's interest in Herrera was factual but they decided not to pay 36m euros for him. They are not going to go for him again and he is happy to stay. There is absolutely no reason whatsoever for Koke to leave Atletico when they can win the league, he is such an important part of the team and there is a World Cup coming up.