Atletico Madrid: Diego Simeone's training methods working a treat
Diego Simeone deserves huge credit for turning Atletico into title challengers, says Guillem Balague.
Last Updated: 23/12/13 4:48pm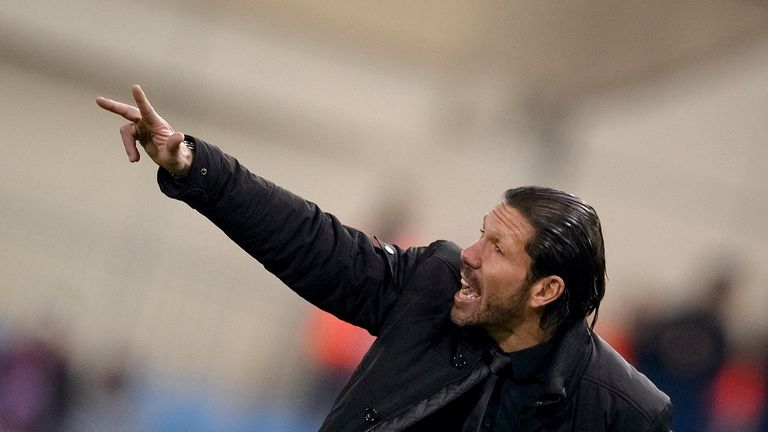 That's because they have different targets to last season.
Last year, after winning the Super Cup against Chelsea, it was about reaching the Champions League and when they were more or less safe two months before the end of the season they concentrated on the Copa del Rey.
This year, though, the target is to win La Liga, no matter what Diego Simeone says.
Atletico are where they should be in budget terms, but they have to sell and will sell next year as they need to get 40-50 million euros to pay interest on taxes, so what Simeone is doing is extraordinary.
He would have liked to get one or two other signings but he is doing everything on the training pitch, something some managers forget, with his very short and intense sessions.
Simeone - whose side play like they train - always demands more, like when they he wanted one more goal when Atletico were 3-0 up against Valencia so they could go top of the table.
Everyone is enjoying the club's success and that is down to the personality of Simeone.
His football is not very complex - it is all about recovering the ball - but this year they have added more work on possession for when they attack deep defences, and they are getting better because of the synergy between the coach and players and the fact everybody feels important.
Simeone gave an emotional speech about how people who struggle to make ends meet work hard and so the players should as well, while he said Barcelona's stats are stratospheric - despite Atletico having the same ones!
He just doesn't want to take away from the game-by-game philosophy.
Guillem answers your questions...
Got a question for Guillem? Then send it in using the feedback form below, and then look out for his answer next week...
PEP UP
Hi Guillem, Has the Bundesliga grown much in popularity in Spain since Pep Guardiola has taken over at Bayern Munich? Allen
GUILLEM SAYS: The Bundesliga has grown in interest, not just because of Guardiola but because the authorities run things properly over there. Wages are more or less capped and the domination of Bayern Munich doesn't overshadow things and every year there are one or two other candidates to win the league. Guardiola had a big challenge on his hands at Bayern but he is doing well. You wondered how he could improve them but the players' positional sense has improved, they can play the ball, and Philipp Lahm as a central midfielder has been a real discovery. They can play with a false nine - Thomas Muller in that position is great - and Franck Ribery as a free creative force works, so that proves that it wasn't just Lionel Messi and the players who made Barcelona, it was Pep as well.
TWO BECOME ONE?
Hello Guillem. In regards to City v Barca, do you think we should start with two strikers (like we did against Bayern at home) or drop a striker and play a five-man midfield with either Silva or Nasri playing in support of the striker (like against Bayern away). Bayern blew us away in midfield at home and they blew us away the first 15 minutes at their own stadium, but as soon as our midfield was able to match them (especially Silva) our attacking still looked good minus the striking partnership we have played in the league this season. Mikle
GUILLEM SAYS: I think we get confused by roles sometimes. Two strikers against Bayern at the Etihad was not a good idea as the two players played like strikers, but Manuel Pellegrini's idea was that one of them came a little bit deeper. I think that if Alvaro Negredo plays he could perhaps play a little bit deeper because Sergio Aguero is more of a number nine than Negredo, even though he is shorter. Negredo can intervene in the build-up and assist, whereas Aguero is more dangerous in the box. I think the match will be equal as Barcelona have their own problems and you could see in the first 20 minutes against Getafe there was no discipline on the pitch. Everybody switched on later when pride was at stake and they hit a Getafe side who decided to play like they were a better team than they were by defending high and they killed them.
SERGIO RAM-OFF??
Is it now time for Sergio Ramos to go? I have supported Real Madrid since moving to Spain eight years ago and have defended many of Sergio's 'indiscretions - his reputation does precede him at times. However, it seems that he is now becoming a liability. His latest sending off, against Osasuna, was ridiculous. Maybe the first yellow card was not deserved but a player of his experience should know that once he is shown one card he then has to tread carefully - he didn't at the weekend. Eighteen dismissals in his time at Real Madrid is far too many and I feel that his contract negotiations should be ended and the next transfer window should be used to at least test the market. bigal73
GUILLEM SAYS: European champion, World Cup champion, and you will sell him? I think that would be a rushed decision. He is not on his best form but I think he should be worked on and improved because his possibilities are immense. He is physically and mentally very strong but he is going through a dip.