Aguero open to English move
Sergio Aguero says he would be happy in England or Spain after stressing his desire to leave Atletico.
By Phil Seery
Last Updated: 15/07/11 10:58am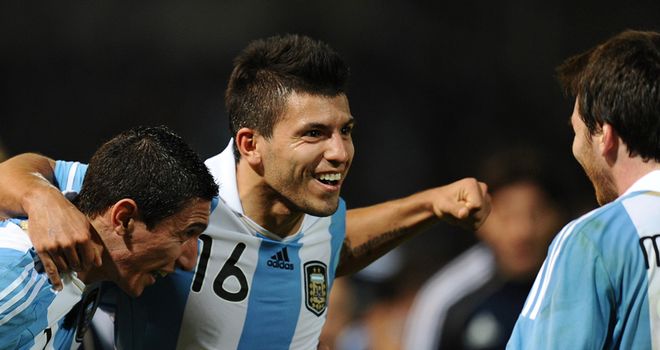 Sergio Aguero has revealed he would be happy moving to England or staying in Spain after reiterating his intention to leave Atletico Madrid.
The Argentina forward, who has been strongly linked with Real Madrid this summer, as well as Chelsea and Manchester City, confirmed on Thursday that he is looking for a new club.
Juventus are also thought to be chasing his signature, but that option now appears less likely.
He said: "I have made clear in my statement that I do not see myself at Atletico.
"I will seek the best for me, I know that my representatives are working and for now I don't want to think about it. I will do something after the Copa America, when I am able to think calmly.
"But if I said I saw myself at Atletico, I'd be lying. I'd prefer to play in Spain or England, those are the two best countries."
Loyalty
The 23-year-old would not rule out a move to Atletico's city rivals Real Madrid, insisting his current club was "his place of work" and that his only true loyalty was to his first professional club Independiente back in Argentina.
Aguero told Radio La Red: "I don't see myself (staying) at Atletico. I could not go to Racing (Club de Avellaneda) because I am (loyal to) Independiente. I arrived there aged eight and I want to retire there. But Atletico has been my place of work in Spain.
"I have given everything for the shirt and I have had a lot of fun but as far as my future is concerned, don't bet on anything."