The one that did not get away. Why did Falcao remain with Atletico Madrid as other top stars left La Liga?
The summer saw many of La Liga's stars depart Spain for pastures new. Tim Stannard ponders why one of the league's brightest talents, Falcao, was left behind...
Last Updated: 07/09/12 10:32am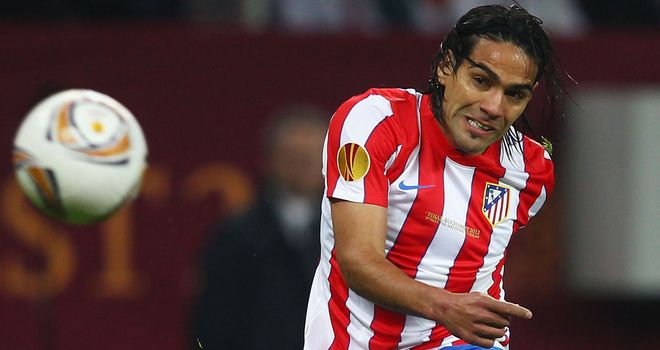 The summer was a disastrous time for La Liga with the football equivalent of a brain drain out of the division - a leg drain, perhaps, is a more suitable term. A net profit of £47m for La Primera's clubs in comparison to the £284m net spend of the Premier League* was a sad reflection not just on the state of the country's finances but also that of the nation's football clubs, almost all of whom are desperately struggling to survive.
To consider some of the players who lit up La Liga last season (and not for the big two) before departing for England or Germany makes for depressing reading - Diego Ribas, Santi Cazorla, Arouna Koné, Javi Martínez, Borja Valero and Michu, to name just a few of the fallen.
The two tiny bright candles of hope for the campaign ahead are that a couple of 'top, top' players have been left behind - not through any desire to play in La Liga, but because deals could not be put together to take them away. Athletic Bilbao hung on to Fernando Llorente having been unwilling to accept the reported €20m fee that Juventus were offering - perhaps not the smartest move for a club who are set to lose the striker for nothing when his contract expires next summer.
Incredibly, Atlético Madrid kept hold of Falcao, who everyone in Spain assumed would be leaving La Liga for the very strong rationale that he's a fantastically gifted player stranded in the ranks of a cash-strapped club that missed out on Champions League football. Even the Colombian's father, Radamel García, thought that the forward would be on the move over the summer, which is why he didn't bother arranging travel to Atlético's European Super Cup trashing of Chelsea, another huge highlight in the football career of the former Porto man.
It's Daddy who still appears to be having trouble getting to grips with the idea that his son is stranded at the Vicente Calderón and not a mile or two up the road, or in England, with his comments that he's always wanted to play for Chelsea at Stamford Bridge or that "his dream is to play for Real Madrid."
Falcao himself has had to be on rapid damage limitation duty over the past few days saying that "just so everyone's clear, my dream is to keep on winning titles with Atlético Madrid." As well the striker might say something like that to keep in with the fans, although that isn't really a problem at a club where he scored a hat-trick in a recent clash against Athletic Bilbao, as well as the Chelsea triumph, and where 60% of shirts sold have his name on the back.
So the matter which is troubling Falcao Senior and everyone else is why the super striker is still at Atlético Madrid? Money, is of course, the main reason. Atlético Madrid (with the help of an investment fund) paid €40m for the Colombian in 2011 to take the place of both Sergio Agüero and Diego Forlán up front and would quite like to get it all back and then some. Quite rightly, in fact, considering this is a player who scored 24 league goals in 34 games and 12 in Europe. Indeed, Atlético Madrid's Director General, Miguel Angel Gil, admitted in a recent interview with Marca that buying the striker was "irresponsible" as the cost has put a huge strain on Atlético's very fragile finances. Gil also said that interest was shown by some clubs, this summer, but no-one offered the right price and that Falcao is part of the team's long-term plans.
That 'right price' is around €60m, an awful lot of money for a striker who is clearly a huge talent but has an air of an old fashioned number nine, the kind of forward player who does most of his work in the opposition's penalty box, rather than tracking back and helping out in defence. Last year, Falcao had Adrián, Arda Turan and Diego to help out with the leg work, a similar set-up to this season but without the inspirational Brazilian.
To get the best from Falcao you would need to build an attacking system from scratch, as Atlético Madrid did. Gareth Nunn from Madridatleticos.com says "For Falcao to work you need to build a team that works for him. To buy him will cost you around €60m and what side is there that would build a team around a player from another league?" Barcelona is one of those sides that would struggle to accomodate the striker with Tito Vilanova commenting that "with the way we play, logically we'd have to change to make room for him in the line-up and I think for now people like how we are playing."
If Falcao repeats the success of the last campaign in La Liga and Europe then someone, somewhere will surely make what could be interpreted as being a gamble on the forward. But for the moment, the striker is perhaps too costly and too risky a purchase despite what Falcao's father desperately hoped would happen and despite the enormous talent the player has shown he has.
*figures according to transfermarkt.com