Second best?
Atletico Madrid are charging towards their best finish in La Liga since they last won the title in 1996. Can Diego Simeone keep them on course to break up the big two?
By Tim Stannard
Last Updated: 26/02/13 2:09pm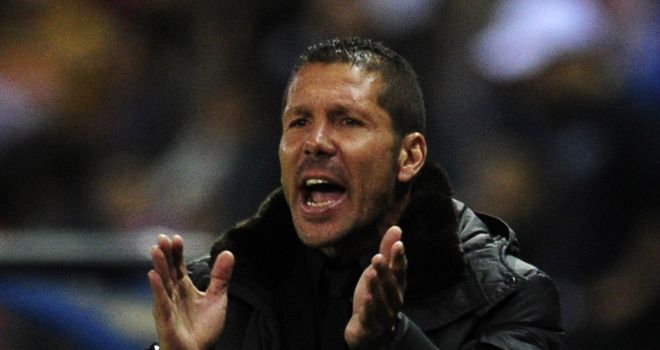 At this rate, Atletico Madrid are going to manage what no team has achieved since Villarreal in 2008, and that is break the boring big two monopoly at the top of the table in La Liga. In that season, the Yellow Submarine - now floundering about in La Segunda, unfortunately - took advantage of a hapless Barcelona, disintegrating under Frank Rijkaard, to sneak into second.
In some small regard, Atletico are taking advantage of another Goliath going gaga, with Real Madrid 15 points worse off than at this stage last season. The 56 points Atletico currently possess would still have seen them standing one place and one point behind Barcelona at this juncture last year. But they are 23 better off themselves, a mind-blowing achievement for the club and Diego Simeone who has been in charge for just 14 months.
Sunday's 1-0 win over Espanyol in the Vicente Calderon was typical of Atletico's performances this season - consistent, predictable, disciplined, hard-fought and well-planned. Five adjectives, in fact, that have not been used in relation to this particular club for...well...forever. Even last year, under the Argentinean coach, there were still typical but endearing snatching defeat from the jaws of victory Atletico moments, including a string of late goals conceded in La Liga to leave the club two points short of the UEFA Champions League places.
But this year, under Simeone's constant Eye of Sauron glare, clad in black, pacing, shouting and berating the referee from the touchline, Atletico have barely put a foot wrong. The Rojiblancos were down to 10 men for much of the second half against Espanyol due to two yellows awarded to midfield organiser Gabi. But it did not bother them for one moment, as they hardly gave the opposition a sniff in their 13th home win from 13 in La Liga. In fact, the last side to score a goal at the Vicente Calderon in La Primera was Osasuna, back in September and 10 home matches ago.
Mantra
"We were up against an organised rival," admitted Espanyol coach Javier Aguirre, a manager who himself had a spell on the Atletico bench between 2006 and 2009. The intense Simeone has been repeating the same message before and after every game, praising his team for being "men" after the previous two victories and talking of the importance of guts, effort and determination.
It is a mantra that is clearly working at a club that has always had players of high quality, such as Diego Forlan and Sergio Aguero, but rarely a manager to put a strong boot down on dressing room rumbles - as well a swift kick for some - or block out interference from the team's two owners, who often have conflicting visions of the future of the side. Admittedly, this has made Atletico a little bit boring in comparison to the seasons before where a trip to the Calderon would see glorious matches the result of which only the foolish would dare to predict.
The immediate future for the club is a Copa del Rey semi-final against Sevilla on Wednesday in the Sanchez Pizjuan, a clash in which the capital city club hold a 2-1 lead. Last Thursday's exit against Rubin Kazan in the Europa League was a true blessing in disguise, with Atletico now able to focus fully on their 13 remaining league games. Three more wins would almost certainly guarantee a Champions League position, judging by points tallies of recent seasons. But what must be a real target for Atletico is the opportunity to finish second ahead of Real Madrid, kicking sand in the face of their rivals, who could well find themselves out of the Copa del Rey and Champions League in eight days' time after key away clashes to Barcelona and Manchester United.
Long-term vision
"As a minimum, we want to stay in second and to do this we have to keep winning and winning. There is no other word in our heads," explained Atletico defender Juanfran after Sunday's win. The confession from the full-back was one of the first times an Atletico Madrid player has not followed the philosophy of taking each game as it comes and seeing where the side is at the end of the season.
It was one of the first occasions that a very clear and achievable ambition has been revealed. The 12-point gap to Barcelona is realistically too big to overhaul but there is no reason why the four-point margin over a Real Madrid side who are still struggling on the road cannot be held or even increased.
As ever at the Calderon, the long-term vision is not as clear with enormous debts potentially forcing the sale of players such as Radamel Falcao and Arda Turan and the return to Chelsea of the outstanding Thibaut Courtois. Simeone's presence next season is not guaranteed either, with the manager's contract yet to be renewed, reportedly over the length of the next deal and a promise that there will not be a fire sale, now that Champions League qualifications looks a dead cert after four years out of the competition.
For the moment, the Atletico fans are stuck in a familiar position, given they may not be enjoying the individual matches that their polished, professional team are playing. But the Rojiblanco massive is certainly having a blast in the overall campaign, with Atletico not far from getting one over their big brothers at the Bernabeu.
The article first appeared on football365