Levante's Papakouly Diop accuses Atletico Madrid fans of racist chanting
Levante's Papakouly Diop claims he was racially abused by Atletico Madrid supporters during Sunday's La Liga game.
Last Updated: 04/05/14 9:06pm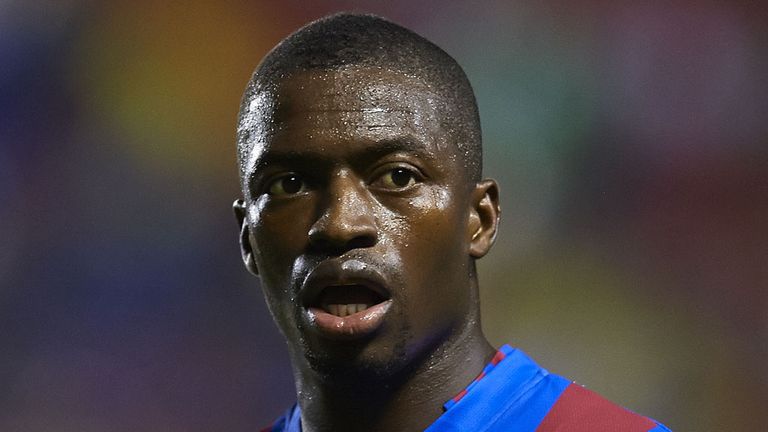 The Senegalese player says he was targeted with monkey chants from away supporters as he stood near them during Levante's 2-0 win.
Television footage clearly showed a number of supporters making monkey gestures, to which Diop responded by dancing in front of them, prompting a mass brawl involving players from both teams.
"I was going to take a corner and some of the Atletico fans started making monkey chants," Diop told reporters.
"To defuse the situation I started dancing but I didn't insult anyone," he added.
"I have nothing against the Atletico fans because it was only a section who chanted.
"It's a lack of respect you get at all stadiums. It's a provocation. I don't know if you can call it racism but these monkey chants have to stop."
This incident, which was not mentioned in the referee's match report, comes only days after Barcelona defender Dani Alves was the target of a racist taunt at Villarreal when a fan threw a banana on to the pitch next to him.
Alves responded by picking up the banana and taking a bite out of it, prompting many fellow players to back him through social media.
Villarreal have since announced that they have identified the culprit and banned him for life.
Levante's 2-0 win on Sunday was a big blow to Atletico Madrid's hopes of winning La Liga title this season.
It hand the initiative back to Real Madrid, who are six points behind their city rivals but have two games in hand and have a vastle superior goal difference.
Barcelona are in second place, three points behind the leaders with two games remaining.