La Liga: Guillem Balague blogs on Alexis Sanchez and Karim Benzema
Guillem Balague explains why Karim Benzema and Alexis Sanchez have re-discovered their form.
Last Updated: 04/11/13 5:09pm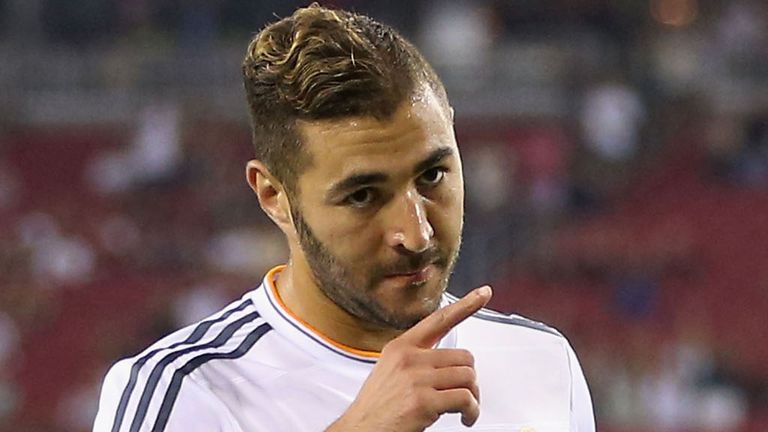 The titanic trio each recorded wins in their most recent league games, with Barca beating Catalan neighbours Espanyol, Atleti downing Athletic Bilbao and Real holding off a spirited fightback from Rayo Vallecano to vanquish the basement boys 3-2.
But how are the Spanish heavyweights getting their victories, which men are playing key roles, where can the sides improve as the season gathers pace, and who may they look to purchase in January?
Guillem answers your questions...
Got a question for Guillem? Then send it in using the feedback form below, and then look out for his answer next week...
SIZZLING SANCHEZ
Hi Guillem. It was interesting to see Alexis Sanchez pop up with another winner for Barcelona on Friday. How important will he be this year? Could he really make his name this season with goals like that? Thanks, Sean (Celtic fan)
GUILLEM SAYS: Alexis has always been confident about his possibilities and always classed himself as a super player, which players often do as if they are the ones to doubt then there is no way out when things go wrong. Fans whistled him and he looked a little bit clumsy and like a non-Barcelona-type player, but the way they are playing at the moment - direct and attacking as individuals rather than as a team - means guys like Alexis get a bit more space, both wide and in number-nine positions. Alexis and Pedro are fighting for one spot and that battle has improved both of them; they have scored and assisted lots of times and that is one of the positives to take from a Barcelona side that is not impressing yet.
SUAREZ TO SPAIN?
Hi Guillem. I love your column. Is there any truth in Real Madrid trying to sign Luis Suarez? As a Liverpool fan I really hope not but he could certainly perform on that stage. Thanks, Brian
GUILLEM SAYS: Real Madrid do need a striker and they are trying to sort it out by getting Karim Benzema to fire on all cylinders again - and the mixture of the backing from Zinedine Zidane, the backing from Carlo Ancelotti and the competition from Alvaro Morata is certainly helping and we saw a better Benzema against Rayo Vallecano at the weekend. Ancelotti feels that a striker of Luis Suarez's mould would be good for the team but I don't think they have the funds and Suarez has said it is an exciting season at Liverpool and he does not see any reason to leave, especially in a World Cup year.
BACK TROUBLE
Hola Guillem. How much of a concern is Real's leaky defence for Ancelotti? They seem to be happy to out-score teams this season but surely that won't work all year or in big Champions League games? Dan (Tottenham fan)
GUILLEM SAYS: The biggest criticisms of Barcelona and Real Madrid have come from their managers. Tata Martino sad Barcelona are not at their best and haven't reached excellence yet, while after the game against Rayo, Ancelotti said it is no coincidence Madrid struggled after going three goals up; Rayo had 23 shots on goal and could have won the game which is unbelievable - and a concern for Ancelotti. You could see Pepe telling Asier Illarramendi to push forward and be a central midfielder instead of dropping deep, as with the absence of pressure from Real's front three - Gareth Bale, who is not fully fit; Cristiano Ronaldo, who chooses his moments to defend; and Benzema, who defends irregularly - Rayo found it easy to attack Madrid. That meant the defence ended up in their own box and caused confusion which is not how Real should play, but they lack personality and dynamism when Xabi Alonso is not playing.
TALENTED TEAM
Guillem. With in-form David Villa and Diego Costa in their ranks, can Atletico force their way between Real and Barca this season? Or even maintain a title challenge? Or could a couple of injuries end their run of results? Cheers, Mike (Chelsea fan)
GUILLEM SAYS: I don't think a couple of injuries will end the run of results because one of the things that Diego Simeone has done well is rotate the side and make everyone feel important. He has added Adrian, who had a really good game against Athletic Bilbao, but there are others who can be counted on such as Cristian Rodriguez and Raul Garcia, and the team is strong on many levels. It is very pleasing to see Villa with three goals in four games, Tiago and Gabi impressing and Koke - who has as many assists as Neymar (7) and should go to the World Cup with Spain, possibly even as a regular - doing well. The side is a succession of success stories but I think they will hit a wall because they have hit their maximum level already and probably can't sustain that.
Got a question for Guillem?
Then send it in using the feedback form below, and then look out for his answer next week...