Villarreal: Guillem Balague on how Marcelino and nutrition have made impact
Guillem Balague reveals how a nutritionist has helped Villarreal power their way into La Liga's top four.
Last Updated: 12/11/13 8:11am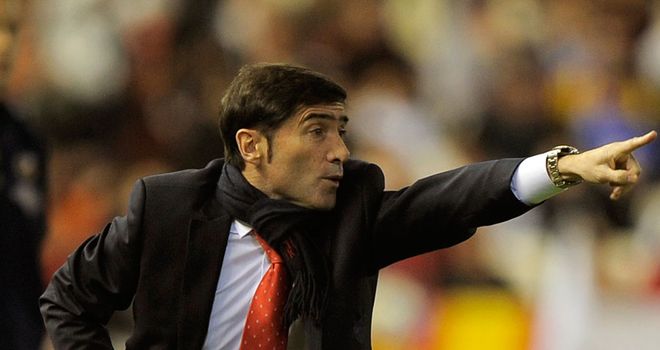 They attack with pace and in numbers, pressure high and have an intensity about everything they do - all of which is down to their coach Marcelino, who has turned things around since he took over last season.
He has given his team an extra edge in terms of belief and, in my eyes, they are favourites to join Barcelona, Atletico Madrid and Real Madrid in the top four.
Villarreal don't have a great bench but they have a team that knows what they are about, especially players like central-midfielder Bruno, who had an outstanding game against Atletico.
Cani is also playing with a lot of freedom, while when Giovani dos Santos returns from injury, possibly after the international break, he guarantees offensive alternatives.
Ikechukwu Uche is doing well, too, and so is Jonathan Pereira having found a club that believes in him, while Marcelino told me they got so upset about being in the second division, that the fear of ending up there again is motivating them this year.
Another secret of their success is nutrition, with a nutritionist devising a plan to reduce the weight of the players; they are eating well at the training ground and at home - the squad has lost a total of 56 kilograms - and they are sharp.
Everything is also done very scientifically, with it being mentioned that the midfielders should run 12kilometres, while the forwards should have 1km of intensive action, so the club are very serious about what they do.
Guillem answers your questions...
Got a question for Guillem? Then send it in using the feedback form below, and then look out for his answer next week...
CASILLAS' FUTURE
Guillem. I'm a big Iker Casillas fan and it was great to see him back in action for Real in the Champions League. But despite that good performance he was again on the bench against Real Sociedad. Do you think he will look to leave the club in January? It seems crazy for a legendary keeper like Casillas to be stuck on the bench - especially in a World Cup year. Jon
GUILLEM SAYS: Casillas is not leaving Real Madrid in January. If he decides to leave for another club next season Real will look at alternatives but it is a very difficult situation and one Carlo Ancelotti wants to keep as it is, with Casillas doing really well in Europe and Diego Lopez doing really well in La Liga. However, Ancelotti's staff are suggesting he should stick with Lopez as he adds more to the side.
MESSI BUSINESS
Hola Guillem! Is there concern in Barcelona about Messi's latest injury? He went a long time without any problems but seems to be spending quite a bit of time on the sidelines recently. Steven
GUILLEM SAYS: We will discuss on Revista what Messi's injury means for Barcelona, but this is now the third one in the same muscle - the biceps femoris - albeit in different legs. Messi only had one injury under Pep Guardiola and that was only from a tackle, while when Guardiola came in there was a complete study of what Messi needed. They need to do another one and see what he needs to change - whether that's a nutrition thing, a rest thing or a physical preparation thing - because he is five-and-a-half-years older. He has a respite now for six to eight weeks and I'm sure he will come back in his best condition.
PAC'S THE MAN?
Hi Guillem. Do you think Rayo Vallecano can survive this season? They certainly showed plenty of spirit in getting that valuable win over Celta Vigo! Keep up the good work. Ben
GUILLEM SAYS: Paco Jemez is a coach that will go places as he believes in playing a possession game in his rivals' half with a lot of attacking options. Even when things go wrong he sticks to that philosophy, something that is essential for a coach, but I think he will stay at Rayo for one more season and moving on. As for Vallecano surviving, there are six or seven teams struggling this season so it will depend on how they finish the season.