Real Madrid v Manchester United will show strengths of Premier League and La Liga, says Guillem Balague
Are United better than Real? Is the Premier League better than La Liga? Tell Guillem Balague your view...
Last Updated: 14/02/13 10:28am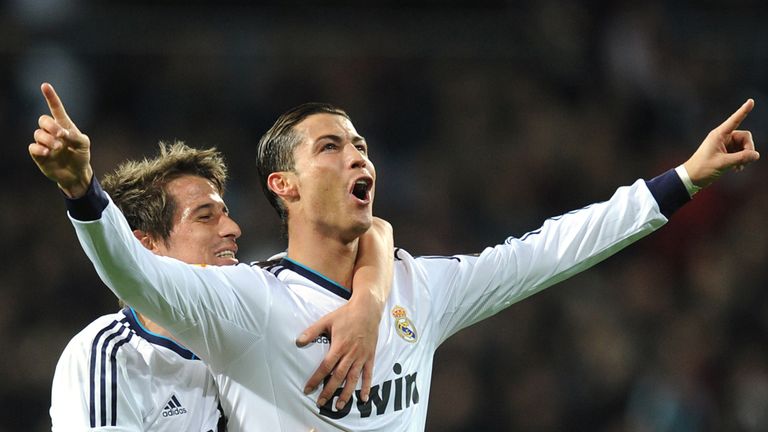 Fans who like to compare the two should be in their element this week when Manchester United take on Real Madrid in the Champions League Round of 16.
United go into the first leg top of the Premier League, whereas Real are 'only' third in La Liga.
I agree with Gary Neville that there is little to choose between the teams, although Real have the advantage of playing at home first.
I can see Real scoring at Old Trafford so they can afford to play for a 0-0 on Wednesday if they want to - a cagey, tight first leg could work in their favour.
I also think that Real's best player - Cristiano Ronaldo - is better than any one player in the United ranks, so that's in their favour too.
Comparison
United's lead at the top of the Premier League is the same as Barcelona's advantage in La Liga and suddenly those who like to say that the Spanish League is weaker have been very quiet of late.
Whereas I see Barcelona as an extraordinary side, one that is peaking again and playing really well, I regard United as a team that struggles to control games and is becoming more and more of a counter-attacking team, albeit one that is so dangerous up front.
I still expect more of United's midfield, whereas Barcelona's looks like the complete article again.
Atletico Madrid are punching above their weight in second place, that's for sure; you can see as much from their failures away from home, most recently losing to Rayo Vallecano.
Behind them Real Madrid only seem interested in peaking for the 'right' games.
It's a sign of the discontent within the squad and the problems that continue to linger around it that they are not performing in the 'smaller' games. But when a big game comes along they are really up for it.
Their equivalent, in terms of league position, in England is Chelsea - a team that is in transition and is suffering from an unbalanced squad that contains too many similar players and not enough central midfielders. They are struggling at the back as well.
Interestingly, fewer fans seem to be criticising Rafa Benitez - perhaps not surprising when they are only four points behind Manchester City and second place.
But generally it is interesting that there are less complaints from the fans, if you like; it is still a minority making noise.
When he took over Benitez's target was to finish in the top three this season so if Chelsea do it will be 'target met'; from that point of view he will have done his job.
Guillem answers your questions...
Got a question for Guillem? Then send it to skysportsclub@bskyb.com or use the feedback form below, and then look out for his answer next week.
BERND BACK?
Hi Guillem. What are your thoughts of Bernd Schuster as a football manager? Can you see him ever managing in Spain again or will he go to Italy or England? Thanks David Fullam
GUILLEM REPLIES: Schuster's days of managing at elite club level would seem to be over. I suspect he might be looking to take charge of a national team, but we'll see. It was interesting that he was sacked by Real Madrid a few days after saying that it is impossible to beat Barcelona - even if he was proven to be right on several occasions in the following years!
POSITIVE REPORTS
Hi there Mr Balague, I have been hearing good things from my friends over in Spain about three youngsters; Saul Niguez, Oliver Torres who are both at Atletico Madrid and Alex Grimaldo at Barca. How well do you rate these young players and are they players that Atletico Madrid and Barcelona want to keep hold of tightly? John Davies
GUILLEM REPLIES: Saul, who plays central midfield, still has a long way to go but you can see he has got quality. He's the kind of guy who has got a footballing brain but he needs to be stronger physically. I've heard very good reports about Oliver Torres. He disappeared from both the 'A' team and the 'B' team after playing his first game. I think it was done to teach him a lesson - to bring him down to earth, if you like. Since then he's behaved really well. He's played 18 games for the 'B' side, 12 of them from the start. He's the kind of guy who still has plenty of room to improve but if he goes the right way he will have a future at Atletico Madrid because he's a different type of player, who plays between the lines. He's got a magic tough. Grimaldo, a full-back, is highly thought of and is a regular with the 'B' team. He goes forward very well and he may be part of the first team from next season.
WING COMMAND
Hi Guillem, my question is regarding the overload of wingers on the Barcelona books at the moment. With Iniesta being shifted to LW and the possible signing of Neymar next summer, there could be up to 7 or 8 wingers playing for Barcelona come August. Which ones do you think will be offloaded and which do you think have a long term future at the club? Dale Anders
GUILLEM REPLIES: I don't think they have so many wingers. It's interesting that they let Isaac Cuenca go on loan to Ajax because he could add depth that others couldn't. Villa, Alexis, Iniesta - these are players who have been moved to that position. Remember, for Barcelona it is about understanding the game and understanding positions so if you're a winger you can't expect to be solely a winger. You have to be versatile, which is the great thing about Barcelona. So I disagree with you that Barcelona have seven or eight wingers.
KEEPING OPTIONS OPEN
Hi Guillem, big fan of your article each week. Just wondered if you know of any reported interest from Barcelona or Real Madrid for David De Gea. I personally would hate to see him leave as I think he could be the world's best within a couple years. Also, do you know of Man United's reported interest in Oliver Torres. I have watched a lot of him and he is a class above the rest for his age and exactly the type of player United need. Many thanks! Matthew Rosser
GUILLEM REPLIES: Hi Matthew - I've talked about Oliver Torres already. As for De Gea - my understanding is that Manchester United don't want to let him go because he is developing as a goalkeeper. You can see that quite clearly. He is trusted to play in the big games ahead of Anders Lindegaard, so why would they let him go? I just don't see that happening at all. I know that Barcelona are looking for a goalkeeper but they are not looking at De Gea - they are looking at Andres Fernandez, at Valencia's Vicente Guaita and maybe Diego Alves. There are others but I'm sure they won't spend a fortune on De Gea, which is what I'm sure Manchester United would want for him.