Espanyol coach Javier Aguirre says side will form guard of honour for Barcelona
Espanyol coach Javier Aguirre says his side will form a guard of honour for Barcelona despite protests.
Last Updated: 26/05/13 10:09pm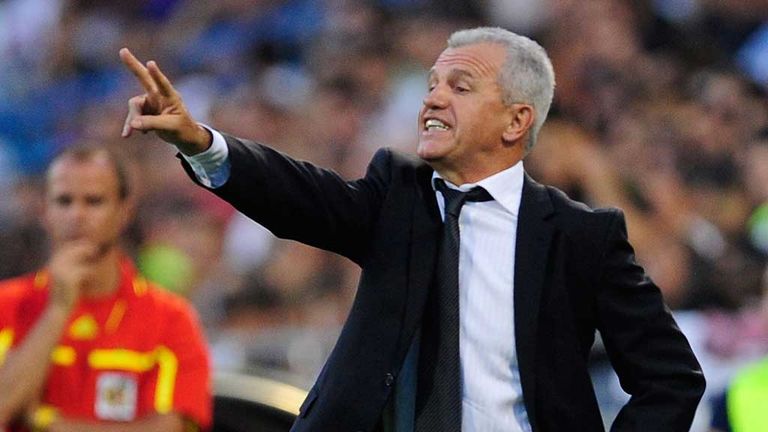 Home supporters have announced plans to turn their backs on the players before the game in Cornella but the Mexican coach promised his team would be respectful.
He said: "I am in no position to pass judgement on the fans, but the president has not even spoken to us about the guard of honour, it is protocol, we will do it, and that's that."
Although Espanyol have limited chances of qualifying for Europe after their defeat at Deportivo La Coruna last week, Aguirre insisted his team would not require any motivation for the Catalan derby.
"When we play Madrid and Barcelona I don't need to focus on motivation, they all know how important these games are.
"Since the first day I arrived here, people have been telling me that Barca are the team to beat, our sporting enemy."
The derby is Espanyol's final home game of a season in which the club flirted with relegation until Aguirre's arrival and the coach is hoping to end the year on a high note.
"We have to win to give ourselves the right send-off, to finish a long season. Beating Barcelona would be a great way to round the year off."
Cristian Alvarez will start in goal while Hector Moreno has been ruled out due to injury and Sergio Tejera is suspended.
Aguirre also sent a message of support to Victor Alvarez, who underwent a heart operation during the week to correct a cardiac anomaly. The players have announced they will pay tribute to their team-mate by wearing T-shirts bearing his name before the match.
Barcelona will be without Lionel Messi and Carles Puyol for the game, while a decision on whether or not Dani Alves is fit to play will be made on the day of the game.
It could be Victor Valdes' last Catalan derby, with reports suggesting the goalkeeper, who has decided against signing a new contract when his current deal expires in 2014, will leave Barcelona in the summer.
Assistant coach Jordi Roura declared that no-one at the club would be trying to convince Valdes to stay.
"It's a strictly personal decision, none of the coaches are in a position to tell him to change his mind, he has thought about it for a long time," said Roura.
The assistant coach also distanced the club from the move by Nike to drape the statue of Christopher Columbus in Barcelona city centre in the club's shirt, which provoked a furious reaction from Espanyol president Joan Collet.
"Nike did a deal with the city hall for this marketing campaign and it has gone very well for them, because everyone is talking about it," remarked Roura.
However, the coach did not think the controversy with the statue or the guard of honour would mean the atmosphere in Cornella would be more hostile than usual.
"We are expecting a difficult and intense match, as it always is in Cornella," he said. "A derby is always special".
Roura took over media duties from first-team coach Tito Vilanova, who has just returned from a trip to New York for medical purposes, but the assistant assured reporters that Vilanova was "in very good spirits".