Fernando Vazquez named new Deportivo La Coruna coach
Deportivo La Coruna have named Fernando Vazquez as their new coach.
Last Updated: 11/02/13 10:36pm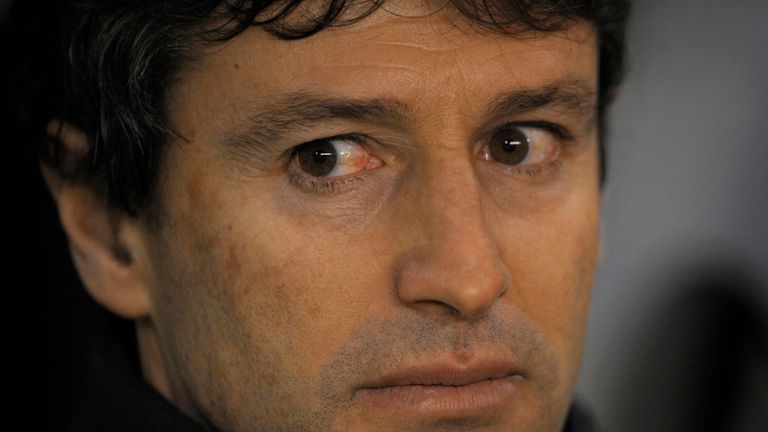 Deportivo said Vazquez has agreed a contract until the end of the season, which will automatically renew for a further season if they avoid relegation.
"Any other option will be at the mercy of the circumstances," club president Augusto Cesar Lendoiro said.
The 58-year-old Vazquez enjoyed success with local rivals Celta Vigo between 2004 and 2007, taking them from the Segunda Division to the UEFA Cup, but has been out of club football since leaving the Balaidos Stadium six years ago, holding the largely ceremonial position of head coach of the Galicia national football team since then.
His previous clubs include Las Palmas, Valladolid, Real Mallorca and Real Betis.
"I am happy for this chance with Deportivo," Vazquez said. "I know this is a difficult time, but I am sure that nothing is impossible and the idea now is to win eight games."
Vazquez takes over from Paciencia, who lasted only six weeks in the job before leaving by mutual consent.
Depor announced the decision this morning in the wake of Saturday's 3-0 home loss to Granada, a defeat which left the club two points adrift at the foot of the Primera Division standings.
Domingos was appointed on December 30 as the replacement for Jose Luis Oltra, who was dismissed with the club bottom of the standings with just two wins from 17 games.
The 44-year-old enjoyed an impressive start to life at the Riazor with a victory over high-flying Malaga in his first match in charge and then following that up with a 1-1 draw from their trip to Real Sociedad.
However, Depor have lost all four matches since then, including defeats to relegation rivals Osasuna and Granada.
This weekend's loss to Granada proved the final straw, with Depor now six points adrift of safety and looking in serious danger of an immediate return to the Segunda Division following their promotion last year.
In an open letter on Depor's website thanking the club and its fans, the Portuguese said: "I'm leaving impressed and grateful for the support that the fans have given the team, even in the most difficult moments; and also sad, very sad, for the results.
"Apart from the mistakes which we've committed, we've had some very bad luck at key times and also refereeing mistakes which have cost us very dear.
"I now ask all of you, from the press who follow the team and the fans, that you support the team without losing heart for the remainder of the season.
"I'm convinced that safety, the objective to stay in the Primera Division, is still possible.
"There is the will, there is unity and there is ability. My biggest desire is that Depor continue where they deserve to be."