El Clasico: Angel Di Maria to start key game for Real and Barcelona
Guillem Balague expects Angel Di Maria to line up for Real Madrid in tonight's Camp Nou Clasico.
Last Updated: 26/10/13 9:41am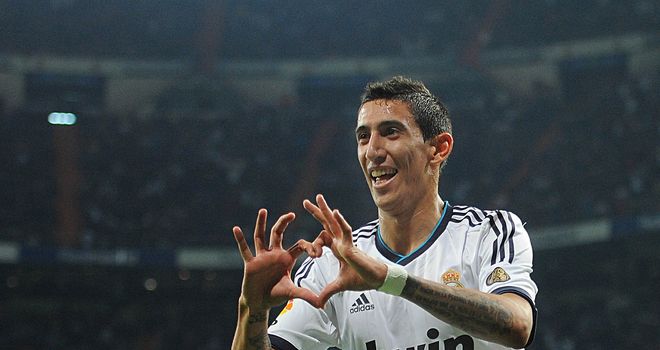 Firstly, Barcelona could only draw and Atletico Madrid lost last time, so Real keep the record for most consecutive wins at the start of a La Liga season.
Secondly, at long last, Carlo Ancelotti seems to be getting some commitment and a positive attitude from his players - but will it be enough to earn him anything at the Nou Camp this weekend, and if so, how?
Carlo is what some coaches call 'lazy'. It is not an insult, more like a confirmation that wherever he goes he applies the same solutions, and they have worked in most places he has been!
By that I mean he wants a solid defence and that is where most of the work has been put in when he and Paul Clement work on tactics (which has not been easy, with at least three friendlies too many and the international breaks).
Building
With the return of Xabi Alonso (nobody is putting a date yet, he wants to be fully recovered before he can be counted on) it will all be easier: he is a top defensive midfielder but clever building up, too.
Once the defensive work becomes solid (Diego Lopez had his first clean sheet at home this season and it seems to be going the right way), Ancelotti thinks the rest looks after itself - but the choice of forwards will not be easy as the season progresses.
Angel Di Maria is on top form (Will he stay when Gareth Bale becomes a member of the first 11?), while Isco is suffering both psychologically and physically with the demands of being a creative midfielder at Madrid.
Bale still needs to be looked after before he is a regular in the line-up and Cristiano Ronaldo is never happy being a false number nine, so a striker (a Karim Benzema lacking in confidence or an Alvaro Morata, hard worker but perhaps not a striker for Madrid) is needed.
There are lots of question marks that only time and more training will resolve. In any case, based on form and fitness, Di Maria, Ronaldo, Morata or Benzema and Modric should be the ones playing against Barcelona.
Leadership
Despite the fact that they are still unbeaten, there is still something lacking in this Barcelona side. The good news is that Carles Puyol is back after 222 days and his never-say-die attitude, aggression and leadership is something that has been missed.
But the truth is there doesn't seem to be the attention to detail, the series of tactical demands put on players under Gerardo Martino that there was under Pep Guardiola. It was these details that made the team so good, what made the difference and what the team is missing at the moment.
In place now is a system relying totally on the individual, the big players to sort out the mess. And against Osasuna it didn't happen.
Neymar is partly to blame: he is a great player, and will become an even greater one, but the problem is when Messi isn't around, he wants to be Messi and he isn't ready for that yet.
He starts his runs from far too deep, tries to round too many players and do too much. We've always known what a great player he can be with the ball, now he needs to learn how to play without it; how to pick his moments; and to learn patience for the betterment of his side.
Defeat could be much worse for Ancelotti as doubts are starting to appear in the media about his work.
Football is great partly because a game can change all perceptions, as it did this weekend, and there is no bigger fixture than the Clasico to define a whole season.
A victory will give either Tata or Carlos a lot of room for manoeuvre in their projects, which are both still in their infancy.
Guillem answers your questions...
Got a question for Guillem? Then send it in using the feedback form below, and then look out for his answer next week...
KOKE FIZZING?
Hi Guillem, With Koke coming of age with Atletico Madrid, and being touted as the 'new Xavi', rumors have come about Manchester United making an approach in January. I was wondering if there is any substance to that rumour or is it pure speculation? Thanks, Alex
GUILLEM SAYS: Manchester United are not the only team to have followed Koke but there has been no offer whatsoever for him at the moment. I like him a lot - I don't think he is going to be the new Xavi but he has a lot of hard work in him and he can pass, he can assist and he is a leader. He can play in a 4-3-3 as one of the two midfielders in front of a Sergio Busquets player and he is going to be a regular in the Spanish national team - and I would say that after a couple of years at Atletico, it would be good if he went to a Manchester United or a Liverpool.
MADE FOR MADRID?
Hi Guillem, I would like to know what you think is going to happen to Shinji Kagawa at Manchester United, if he will leave in January and if he will go to Atletico Madrid as I have seen a few times this year he has been linked to a move there as well as back to Dortmund? Thanks,
GUILLEM SAYS: Atletico Madrid are looking to convince Diego, who is now at Wolfsburg, to join them in January, but Kagawa is an interesting one. I think David Moyes appreciates his talents but doesn't see them consistently enough, so I think Kagawa needs to impose himself and convince Moyes. I think that will be his target in the next few months.
SHORT OF CASH?
Hi Guillem, Can you shed any light on the situation at Malaga these days?. The last I heard the owner wasn't prepared to put any more money into the club due to issues with the local council and planning permission, resulting in the selling of the club's best players. I note they gave Roque Santa Cruz a new contract and the owner is still there. Do you know if there has been any change of heart and if he is prepared to spend again? It's a real shame as I was at the Copa del Rey match against Barca last season and the support they have there is tremendous. Cheers, Sam
GUILLEM SAYS: The situation at Malaga is exactly the same. They had to reduce the wage bill and have done so, while they have to survive on the money they make from players. There is going to be no more money from the owners at all.
THREE STEPS BACK
Hello Guillem, I am a massive Valencia fan. Do you think in the near future we will return to the heights of the team from 1999-2005?? They deserve to be up there with the Madrids and Barcelonas as they are a sleeping giant right now. James (Glasgow)
GUILLEM SAYS: Valencia do deserve to be up there but it is a different situation to those years you mentioned. They are more than 250million euros in debt so their priority is to survive as a club and then use the academy to make an impact in the league. I'm sure they will be Champions League contenders in the next few years but the money means Barcelona and Real Madrid are three or four steps ahead of everyone else - which is why Atletico Madrid must be commended for what they are doing.