Camaigners condemn Spanish FA for Villareal fine
UK football's leading anti-racism campaigners condemn the Spanish FA
Last Updated: 08/05/14 9:12am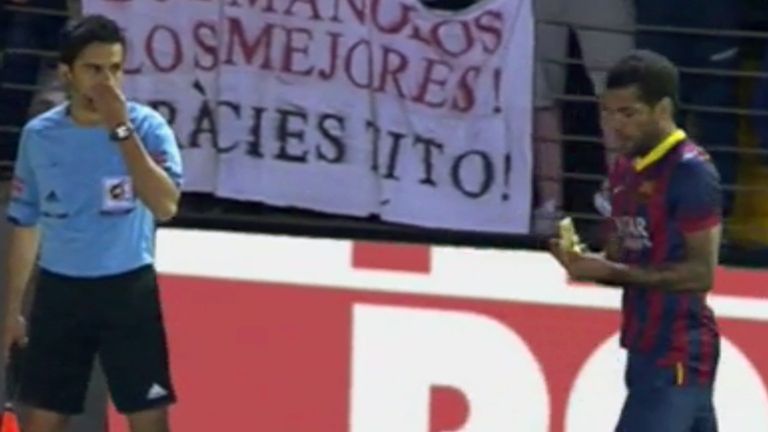 The Brazil international had a banana thrown at him while taking a corner during Barcelona's 3-2 win at El Madrigal on April 27, and he reacted by taking a bite from it before throwing it away.
A 26-year-old fan, David Campayo Lleo, was later arrested by police and was subsequently banned for life by Villarreal.
Spanish football authorities opted to fine Villarreal just under £10,000 rather than enforce a partial stadium closure - a move which has been criticised by Show Racism the Red Card chief executive, Ged Grebby.
"I think it's an absolute joke," Grebby told Sky Sports News. "I think it sends out all the wrong messages and it really is a trivial fine.
"I think, generally speaking, the Spanish FA and Spanish football are not taking racism seriously at all."
Anti-racism organisation Kick It Out have responded with equal criticism of the Spanish authorities, insisting the punishment is woefully insufficient.
Lord Herman Ouseley, chair of Kick It Out, said: "The Spanish FA has been incredibly weak and lily-livered on tackling racism and we're seeing these types of incidents repeating themselves because they've done nothing sufficiently effective to address the problem.
"They need to stop burying their heads in the sand by denying that the issue exists."
Paul Mortimer, Professional Players Engagement Manager at Kick It Out, thinks the responsibility now lies with UEFA to step in and force the Spanish FA to respond to racism more fervently.
"Fines do not serve a purpose," he said.
"There have been so many issues that have happened. They're not isolated incidents - we can count them.
"There is an issue there, there is a problem there and it's time for the Spanish FA to take it seriously. They need to set a trend in Spain by punishing clubs correctly."