La Liga: Villarreal will close part of El Madrigal for Europa League play-off
Villarreal will close part of their stadium for August's Europa League play-off to re-state their anti-racism stance.
Last Updated: 23/05/14 6:17pm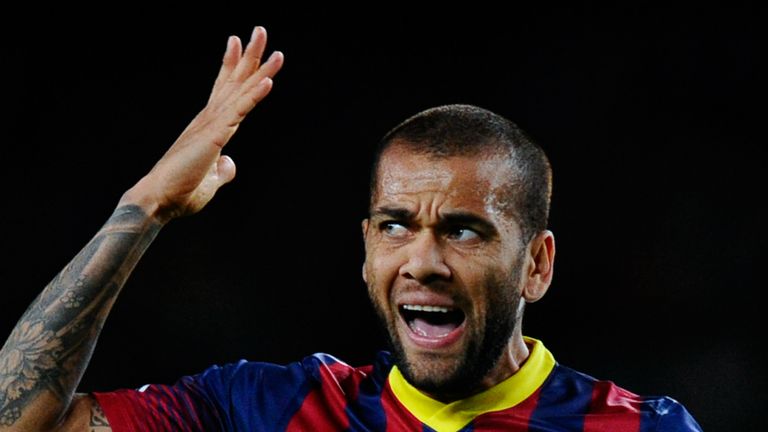 Villarreal were last month fined 12,000 euros (£9,700) by the Spanish football federation after one of their fans threw a banana on the pitch in front of Barcelona defender Dani Alves - which the Brazil international picked up and ate.
The club, who quickly identified the culprit and handed him a lifetime ban, escaped a stadium sanction for the incident but have nevertheless decided to close the section from where the banana was thrown for the home leg of next season's Europa League play-offs.
Instead of allowing supporters in the section, Villarreal will put up an anti-racism banner. Season-ticket holders will be moved to a different part of the ground.
A statement on the club's website read: "The Villarreal president Fernando Roig has told Miguel Cardenal, president of the Spanish Sports Council, that the club will close part of the stand in the Europa League play-off match which will be played in El Madrigal next August.
"Villarreal will close the zone where the fan incident with Dani Alves occurred on April 27 and this gesture will send out a strong message against racism and xenophobia, leaving very clear once again the club's position on this.
"Roig confirmed that the area will have a large banner with the slogan 'No to racism' and as such Villarreal will follow the methodology that UEFA has employed in recent months for similar incidents, with sanctions of closing parts of the stadium."
Last month's incident involving Alves sparked a social media campaign against racism as scores of his fellow professionals showed their backing for his decision to eat the banana thrown at him as he was about to take a corner.
Neymar, Mario Balotelli, Sergio Aguero, Luis Suarez and women's star Marta were among those who posted pictures of themselves taking bites out of bananas in tribute to Alves' actions.
A 26-year-old man was arrested on suspicion of racially insulting the Brazil international.