Guillem Balague on Falcao's future, Puyol's new deal and Modric's Madrid role
Is Falcao heading to the Premier League? Guillem Balague has the latest and answers YOUR questions...
Last Updated: 26/10/12 10:17am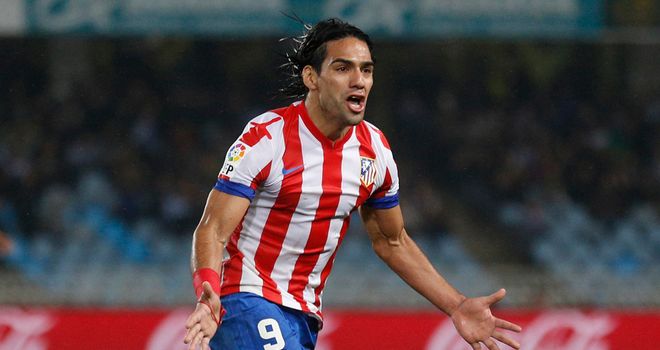 We're currently getting some stats together on Barcelona under Guardiola and Vilanova and I'll be taking a closer look at how they compare later this week, so stay tuned for that.
In the meantime we can reflect on a crazy game at the weekend; Deportivo 4-5 Barcelona!
It was a match that made Tito's team look even more like the Dream Team of the 1990s than Pep's team did, as Albert Ferrer, who used to play for the Dream Team, told us on Sky Sports on Saturday.
Barcelona are conceding a lot of goals at the moment and are missing Carles Puyol terribly, even more than they are missing Gerard Pique. Puyol's anticipation and aggression is much needed.
But Barcelona are scoring plenty, too. Lionel Messi scored a fantastic hat-trick and to continue the comparisons with the Dream Team, he'd be Romario, Cesc is like Michael Laudrup, Andoni Goikoetxea and Hristo Stoichkov are Pedro and Tello.
We'll take a closer look at what's going on at the club later this week.
Guillem answers your questions...
Got a question for Guillem? Then send it in here or use the feedback form below, and then look out for his answer next week.
FALCAO FLYING OFF TO...
Radamel Falcao continues to look like one of the top finishers the world has to offer - maybe even the very best. If Atletico do cash-in on the Colombian next summer as expected, where is his most likely destination - and where do you think he would fit in best? Isaiah Grayson (Arsenal fan)
GUILLEM SAYS: We'll talk a lot about Falcao on Revista this week. There's going to be an offer in the winter from PSG and it will be up to him if he accepts it. He's already got an offer on the table from them which will make him the best paid player in the world but he's waiting to see if Chelsea, Man City or Real Madrid are actually going for him as well. He's got a suspicion Real and Chelsea are interested in going for him, but in the meantime the only offer is from PSG, so we'll see.
CENTRAL PROBLEMS FOR BARCA
Guillem, firstly I really enjoy your articles and comments on Revista. You always offer a unique perspective. My question for you is as follows...It's quite evident that Barcelona are having defensive issues with their two main centre-backs out. Also, Puyol seems to be having a lot of injuries. Do you think he is coming to the end of his career at Barca and Tito should look for a replacement or does he have a few years left? I feel Tito made a mistake in not buying a centre back over the summer. Do you agree? Also, do you know of any player linked to Barca? Looking forward to hearing from you. Joshua Reddipogu (Barcelona fan)
GUILLEM SAYS:Thank you for your kind words Joshua. Puyol will get a new contract and will retire at Barcelona. That's an unusual thing because the last player to come from the lower ranks at the club and retire there was Barcelona was another Carles, Carles Rexach, who played until 1981. Even if they want to play directly and stretch teams that way, with Cesc thinking more of the last part of the field than about keeping possession, which stretches the team and doesn't allow them to pressure high like they used to, they are better off if they had Puyol being aggressive and anticipating with his defending. He's greatly missed but Tito insisted he doesn't want a centre back, even in the winter transfer window.
THINGS LUK-ING UP FOR LUKA?
Hi Guillem, Love the weekly column. Just wanted to know your thoughts on Luka Modric? In last week's column, you briefly mentioned Mourino was 'disappointed' with Luka - can you share more on that? He seems a bit part player at present and I'm scratching my head as to how Mourino regards Luka in the long term? Dean Clark (Tottenham fan)
GUILLEM SAYS: Mourinho's been playing a game with Modric, using a stick and a carrot. First he gave him the stick, publicly saying he needs to learn so much and he needs to learn it quickly. Not everybody can get to the standards set by this Real Madrid side, standards of very high work rate with and without ball, and Modric has to learn, especially without the ball. But then he gave him a carrot, saying Modric is going to give great afternoons of football to Real Madrid. He's only a kid - and Mourinho used the word 'kid' - so be patient with him, is Mourinho's message. He does see a future in Modric in the long term.
BIG IN SPAIN
Hi Guillem, In England people are always singing the praises of Lionel Messi and Cristiano Ronaldo, which is quite understandable, but who do the fans and pundits in Spain think is the greatest player in the world currently playing outside of La Liga? Stephen Davids (Charlton fan)
GUILLEM SAYS:Outside of La Liga the talk is of Neymar - and I announced exclusively on Revista that Barcelona have already paid some part of the transfer fee to get him after the World Cup. There is also talk about Zlatan Ibrahimovic and Hernanes of Lazio, who, I think, is a fantastic player. But Wayne Rooney is considered one of the top players in the world as well. If you look at him close up he hasn't stepped up his level with the national team but he's considered in Spain as one of the top ten players in the world. David Silva will be on that list as well.
ESPANYOL ON THE SLIDE?
Hi Guillem, Why have your beloved Espanyol had such a difficult start to the season? Many thanks, Graham Beard (Man United fan)
GUILLEM SAYS: We've had a very difficult start to the season but that's a consequence of a lack of direction at the top of the club. Mauricio Pochettino and Director of Football Ramon Planes have a clear idea of where they want to take the club but there's a lack of direction at the very top, which means there is no focus. This should be a club bringing youngsters through but the politics at the club means the academy is in disarray and all in all every year, because of huge debt, we've been selling players so there's less quality in the squad. If we'd kept the players we have been selling we'd have a great team by now. That's the problem.
LOCAL LADS LIMITED?
Hola Guillem, We saw Athletic Bilbao pass Manchester United off the park last season with the likes of Iker Muniain unplayable. Despite this, sometimes, their La Liga form leaves something to be desired. What do you see in the club's future? Andrew Isaacs (Colchester fan)
GUILLEM SAYS: Bilbao have got a team made of local guys and if you have a generation of good quality players then they could do well in cup competitions, as they did last season, but generally they don't do so great in the league, compared to other sides with many more riches. Marcelo Bielsa took their level to a new dimension with his methods and his demands but I think he's got an out of date mentality in the way he works because he demands so much from his players that unless they maintain that competitiveness and mentality that level drops. It's a romantic story in terms of getting local boys into the club but at the same time that is their downfall because players don't come from big clubs and don't push themselves to their limit because they know if they are good enough they'll play and if they do well they can stay at Bilbao forever. That extra hunger is missing, even though Bielsa is trying to link the hunger of the Basque Country to the hunger of the players. It has worked for a season but it has got a limit.